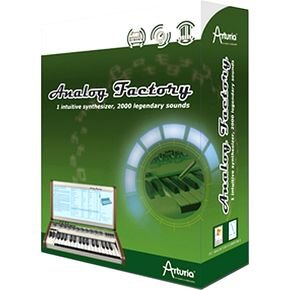 6 available
Details
Shipping: United Kingdom: free (more destinations)
Condition: Brand new
*The store has not been updated recently. You may want to contact the merchant to confirm the availability of the product.
Arturia Analog Factory

Analog Factory brings you 2000 legendary synthesizer sounds that have shaped modern music production. From classic phat lead lines to crystalline digital pads, this virtual instrument provides the contemporary musician with a broad, versatile and instantly striking sonic palette.

But Analog Factory is not only a powerful source of amazing synthesizer sounds. It is also a very versatile instrument: all sounds are dramatically modifiable, which makes this software stand apart from any sample-based collection of sounds. Analog Factory has been developed with TAE, Arturia's award winning proprietary technology for analog emulation, which guarantees an unprecedented accuracy in modelling originals.

Using the smart Preset Manager allows you, in just few clicks, to find the sounds you need from among the huge preset collection, while the editing capabilities are kept to the most essential parameters, allowing you to instantly customize the sound to suit your sonic needs. There is no need to dig into the complex art of sound design, or to deal with the science of sound synthesis. Instead, you get instant access to the powerful and dynamic sound of real analog synthesizers, created by a team of internationally renowned sound designers, all wrapped up in an intuitive interface.

Analog Factory not only integrates seamlessly into all the major hosts and sequencers on the Mac and PC platforms, but it can also be used in standalone mode and easily controlled by a remote external MIDI keyboard, with keys, knobs and faders, allowing you to make dramatic changes via a simple twist of a knob.


Features:
2000 analog synthesizers sounds that have defined the sound of modern music

All presets are carefully selected from the Arturia Classic Synths (minimoog V, Moog Modular V, CS-80V, ARP 2600 V, Prophet V and Prophet VS)

These TAE powered sounds offer unparalleled audio quality

Smart Preset Manager. Fast filter the presets to your requirements: by Instrument, by Type (Bass, Pads, Leads) and/or by Characteristics (hard, soft, complex, simple, short, long?), and find presets according to these filtered choices

Organize Presets view by Name, Instrument, Type, CPU usage, Favorites, or User Presets

Straight forward Editing, with the most essential parameters for personalizing presets: (Filter and LFO sections, 4 Key Parameters differing for each preset, Chorus & Delay mix, ADSR envelope)

8 Snapshots buttons (quickly store up to 8 snapshots for sound comparisons, variations?)

Integrated as a plug-in within your sequencer, on Mac and PC, or plays as a stand-alone software synthesizer

Optimize your screen space: chose to view the Preset Manager only, the Keyboard only, or both at the same time

Set to Control with your external MIDI keyboard in just a few clicks

Save and recall presets

TAE Technology
TAE is "True Analog Emulation" - Arturia's exclusive technology which accurately reproduces, tone, waveshape, tuning and other detailed characteristics of an analog synthesizer.

What is the main characteristics and advantages of the TAE technology -
Better Reproduction of Analog Oscillators
TAE recreates the characteristics of analog oscillators in amazing detail. The transparency and clarity of their analog synthesizer emulations give the musician a freedom to be inspired by classic sounds or explore new textures with the expectation that previous limitations of digital oscillators will not interrupt the creative flow.

Better Reproduction of Analog Filters
Filters are a major element in substractive sound synthesis. It is important to reproduce the exact characteristics of analog filters in the digital domain, as well as the individual characteristics of classics instruments that give them each their characteristic sound.

Implementation of Soft Clipping
Soft clipping can give the sound more punch and deeper basses, together with limiting the amplitude of the sound. It is another important point that gives analog synthesis its sound and "attitude"
Technical Info:
Compatibility
Windows 2000 and XP

MAC OS X 10.3.9 or higher and Universal Binary

Required Minimum Configurations
PC/Windows: 512 MB 1,5 GHz CPU

Mac OS X : 512 MB 1,5 GHz CPU

YRS MIDI Systems is an authorized dealer of Steinberg software products as well as a number of other popular brands in the pro/consumer audio production industry.

All of our software is brand new and fully licensed.
... [Full Description]