Cleaning Service Business Website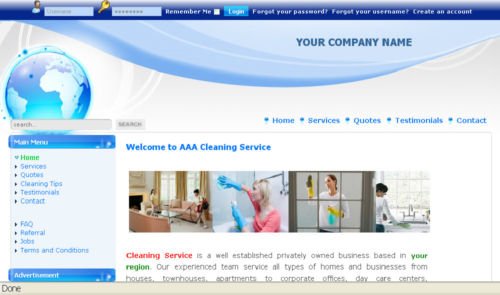 More than 10 available
Details
Shipping: United Kingdom: free (more destinations)
Condition: Brand new
*The store has not been updated recently. You may want to contact the merchant to confirm the availability of the product.
Cleaning Service Business Website (PHP Script)
Plus 30 cleaning tips pre-posted!
=======================================================

Here is The Demo Site:
http://www.demo-cleaning.techsrc.com

Here is the detailed description:
http://www.demo-cleaning.techsrc.com/description/des001/cleaning-business_des-ad.html




Dear (future) cleaning business owner:

This is an amazing opportunity to own a professional Cleaning Service Business Website.

These days people live very busy lives so they use the convenience of the Internet to shop for the services they need. A lot of working people will shop for services while at work. Everyone that has a business should have a website. why?

-- It shows clients that you are serious about your business. Your website allows both potential customers and existing customers to communicate with your business 24 hours/day and 7 days/week.

-- Your website can help you tell people what you do and how you do. Your website can help you sell your service by displaying rates, giving contact information, showing facility photos, offering discounts and providing detailed information that potential customers want.

-- Your website may be the first chance you have at making a good impression on a potential customer. It will bring you leads and it will put you in front of the customers as a well established company. If you don't have a website, you're losing business to other companies that do.

-- Information on your website, such as Frequently Asked Questions, will save you a lot of phone calls and time spent on answering questions and inquiries.

-- Your website is an important marketing part of your business. You need to have an online presence for your business. It's worth it.

--People usually end up searching online for ratings and reviews associated with the company and it would be bad if they found out that you don't even have a website.

We are selling a professional Cleaning Service Website Software. No programming is needed. Lets get started on what this site has to offer and some of its features.

1. Website(Front End) Features:
-- This website is based on Joomla Content Management System (CMS) and redesigned by our professional team. We did a lot customized coding to make the site ready to use by cleaning business.


-- With 10 web pages, appealing to the eye layout, including:
1. Home page
2. Services
3. Quotes (or Estimates)
4. Cleaning Tips
5. Testimonials
6. Contact
7. FAQ(Frequently Asked Questions )
8. Jobs
9. Referral
10. Terms and Conditions

All are professionally designed with rich pictures. A total of $600 value.

-- Comes with pre-installed more than 30 cleaning tips to get you started.

-- Create unlimited categories and subcategories.

-- Readily search engine optimized to help your website rank in the search engines.

-- Built-in banners where you can generate extra revenue from advertisement. Displays random banners every time the page is visited.

-- Built-in Google AdSense. Earn extra cash from Google.

-- Forms with anti-spam image captcha. It helps prevent robots to submit your forms.

-- Website Statistics: page hits counter.

-- Who is Online:
1) Display members/guests online.
2) Display new members registered on your website.

-- A User Manual file is included in the package. It is written in easy to understand English. Follow the User Manual and tutorials provided with this package to maintain your website on your own.


2. Admin Area(Back End) Features:
-- Manage your business website online via your own easy to use web-based Admin Area.

-- Easy to create your content as if you write an article. Keeps an easy to manage record of all contents.

-- Add your own keywords and meta tags through your Admin to help your search engine ranking.

-- Easy to change colors and add in a logo. Text and colors of contents are completely customizable.

-- Editable FAQ (Frequently Asked Questions ) page that can be customized in Admin.

-- Editable prefilled Terms And Conditions page.

-- Includes help instructions on every Admin page.

-- This website is written in PHP script + MySQL, And It is 100% customizable and extendible. Everything can be configured though an easy to use web-based Admin area.

-- The value worth paying for is making all of this run smoothly and reliably and look pretty.

...........
... [Full Description]