"Tails" of a Suburban Cowgirl Horse Book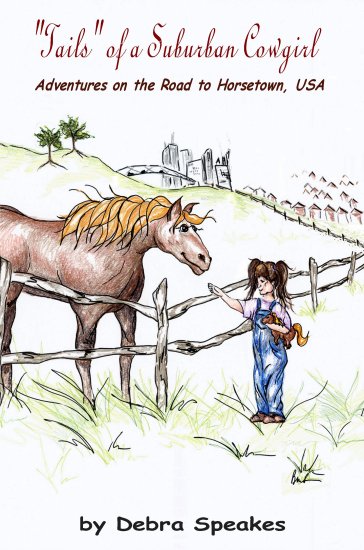 More than 10 available
Details
Shipping: United Kingdom: free (more destinations)
Condition: Brand new
*The store has not been updated recently. You may want to contact the merchant to confirm the availability of the product.
"Tails" of a Suburban Cowgirl
by Debra Speakes


Great new book! Great gift for the horse-lover in your life. (Rated PG for
breeding and anatomy references -- not really meant for very young
children.) Softcover, 6X9", about 150 pages.

Here's an excerpt (more excerpts below):

. . . Back at the main corral, a fire was already burning, the branding iron
heating. The calves were penned, and one by one, they were released into the
branding corral. I was surprised that these real, live, cowboys didn't
gallop after the calves with ropes on horseback the way they do in the
rodeo. Instead, they roped them from the ground, calmly, without making them
run, or simply walked them into a corner and grabbed them.

After the branding, each was given a shot of antibiotic and the bulls were
castrated, the testicles being tossed over the fence.

Being a girl, I was also expected to help with the lunch, so when one cowboy
came over and asked the women if they wanted to cook some mountain oysters,
I heard the comment. I asked Karen where they had gotten oysters and she
laughed. Then she told me that "mountain oysters" was a euphemism for
testicles. And they were going to eat them?? Gross! Maybe there were some
parts of being a cowboy I could just skip.

ARE YOU A SUBURBAN COWGIRL (OR BOY)? DO YOU WISH YOU COULD BE?

Have you always wished you could have a horse? Have people told you it's not
practical, it's too expensive, it's too much trouble? That you need to live
in the country to have horses? That you ought to forget horses and take up
bowling instead? Do you still speak to those "neigh"-sayers? Why?

"Tails" of a Suburban Cowgirl is the true story of a little girl growing up
in the suburbs of Phoenix, Arizona, with a deep love of horses and a family
who couldn't care less about them. Yet over the years, she not only achieved
her dream of having horses while still living in the city, but she
eventually found her way to country living in the horsetown of Norco,
California, where it is said there live more horses than humans.

You'll laugh at her struggles to learn to ride and train using only books
for references. You'll suffer the pains of her first falls and the
occasional injuries, and you'll cry at the losses she suffered in her
travels through life. The story is sometimes humorous, sometimes serious,
sometimes poignant. It's the "tail" of a complete life of loving and living
with horses and other animals. You might learn something too -- like what
NOT to do with horses!

This wonderful book is a must-read for any would-be cowgirl or cowboy stuck
living in the city but who dreams of living the cowboy life. It's also a
trip down memory lane for others who traveled the same path, achieving the
dream despite the numerous obstacles that arise on the unlikely journey from
stick horses to stock horses, from model horses to Morgan horses, from
stuffed ponies to cow ponies.

TESTIMONIALS:
The unbiased experts all agree: "Tails" of a Suburban Cowgirl is a hit!

"Tails" of a Suburban Cowgirl is the best book I ever read. Honest. I
wouldn't lie to you. Claire G., author's mother

Everyone should read this book. The fact that the author is an arrogant
know-it-all who keeps her corrals cleaner than she ever kept her bedroom
shouldn't stop you from buying her book. Laura Y, author's older sister

Please do Debra a favor and buy this book. With all those animals to feed,
she really needs the money and keeps making comments about inheritances. Don't
know where she got that idea; if I couldn't afford to buy her a pony,what
makes her think there's going to be an inheritance? Please buy the book so
she can buy some hay -- I keep finding banana peels on the steps. Steve G.,
author's father

I was told to say this is a really great book, please buy five copies and
give them to your friends. I'm told it's going to be on the best seller list
by next week. I don't know what it's about, she won't let me read it for
some reason. Phil S., author's ex-husband

Please buy the book. It's really good. She told me to say that or she's
going to punch me in the arm. Mary Ann D., author's younger sister

MORE EXCERPTS:

JOCK: THE RODEO . . . the next thing we knew he had pulled away from me,
spun around and started bucking toward the gate with the saddle dangling
underneath him. He demolished the wire gate and bucked his way halfway down
the alley before he stopped, eyes rolling, sides heaving, with the saddle
hanging under him with a broken stirrup leather.

He allowed me to walk up to him and take the lead rope and I fumbled to
unbuckle the flank strap before he could blow up again. . . .

The school of hard knocks was now in session. It was time to put away the
books and learn the rest straight from the "horse's mouth."

MOLLY: MY FIRST FALL . . . . . I'll never forget our first trip to that
stable. Remember, I was the kid who had read it all and knew it all and was
unthrown despite the head-tossing best efforts of countless prior stable
plugs and despite my being an experienced cowpuncher by this time.

Having been trained through countless books to ride English and having had a
whole two days' experience in Alpine on an English saddle, I had decided
that riding a Western saddle was too "easy" for someone of my vast
experience and knowledge.

With my friends looking on, hopefully properly impressed, I asked the
wrangler if there were any "English or bareback riding" at that stable. The
wrangler raised one eyebrow and said, "You can go bareback if you want to."

It took Molly probably less than five minutes to make her point. We decided
to canter. Tanna went out in front and I took careful hold of a handful of
mane before nudging Molly into a smooth canter after her.

And within 20 feet I received another lesson in the school of hard knocks.
Molly grabbed the bit, made a hard left turn, and just like that -- no
rearing or bucking or anything, just a hard left turn -- the unthrowable
suburban cowgirl hit the dirt for the first time. I was fifteen.

Up until that moment, I had felt invincible, arrogant, cocksure, and oh, so
smart. Suddenly I realized that the reason I had never fallen before was
because no horse had ever cared all that much whether I rode it or not. None
of them had ever wanted me off!I had never known before how little I did
know about horses. It took a buckskin mare with more arrogance than I had to
teach me that simple lesson.

But we never seem to learn those lessons all at once, do we?

SANDY: I GET MY DREAM HORSE . . . . Woody took one look at her and gave a
low whistle. "She's all horse and a yard wide," he declared. (I supposed
that was Missouri horse trader talk for "pretty durn good." )

He looked her over, picked up her feet, looked in her mouth. The man saddled
her up again and I took her into the arena. He said her name was Sandy. She
was eight years old.

We walked, trotted, cantered, and then I asked her to open up a little. She
did everything I wanted and was smooth as glass at full gallop. But the real
surprise came when I asked her to turn at a run. She leaned smoothly into
the turn, and without needing the entire width of the arena to do it either.

All those stable horses I'd ridden, all those dull-sided, unresponsive,
ruined horses I'd learned to ride on couldn't have turned in a forty acre
field at the speed this mare was running, and she was turning around in less
than half the width of the arena. I'd never before ridden a horse that could
be turned while running.

I wanted her more than ever . . . but I still didn't have the money.

Sandy pranced back to the gate, neck arched and proud. I felt like Alec
Ramsay on the Black Stallion. She was all fire and spirit, but gentle as a
lamb and responsive to my slightest touch. She did everything I asked, and
did it with fire and beauty. I wanted her so badly I nearly cried when I got
off her.

We got in the car and headed home. Halfway there, Woody surprised me when he
said, "If you want her, I'll loan you the money to get her. She's too good
to let go." I couldn't believe my ears.

The suburban cowgirl finally had her dream horse. I had found my "Black
Stallion" and it was a buckskin mare.
... [Full Description]