Chemical Free All Natural Breast Firming Toner Herbal Toning Lift for Sagging Breasts That Works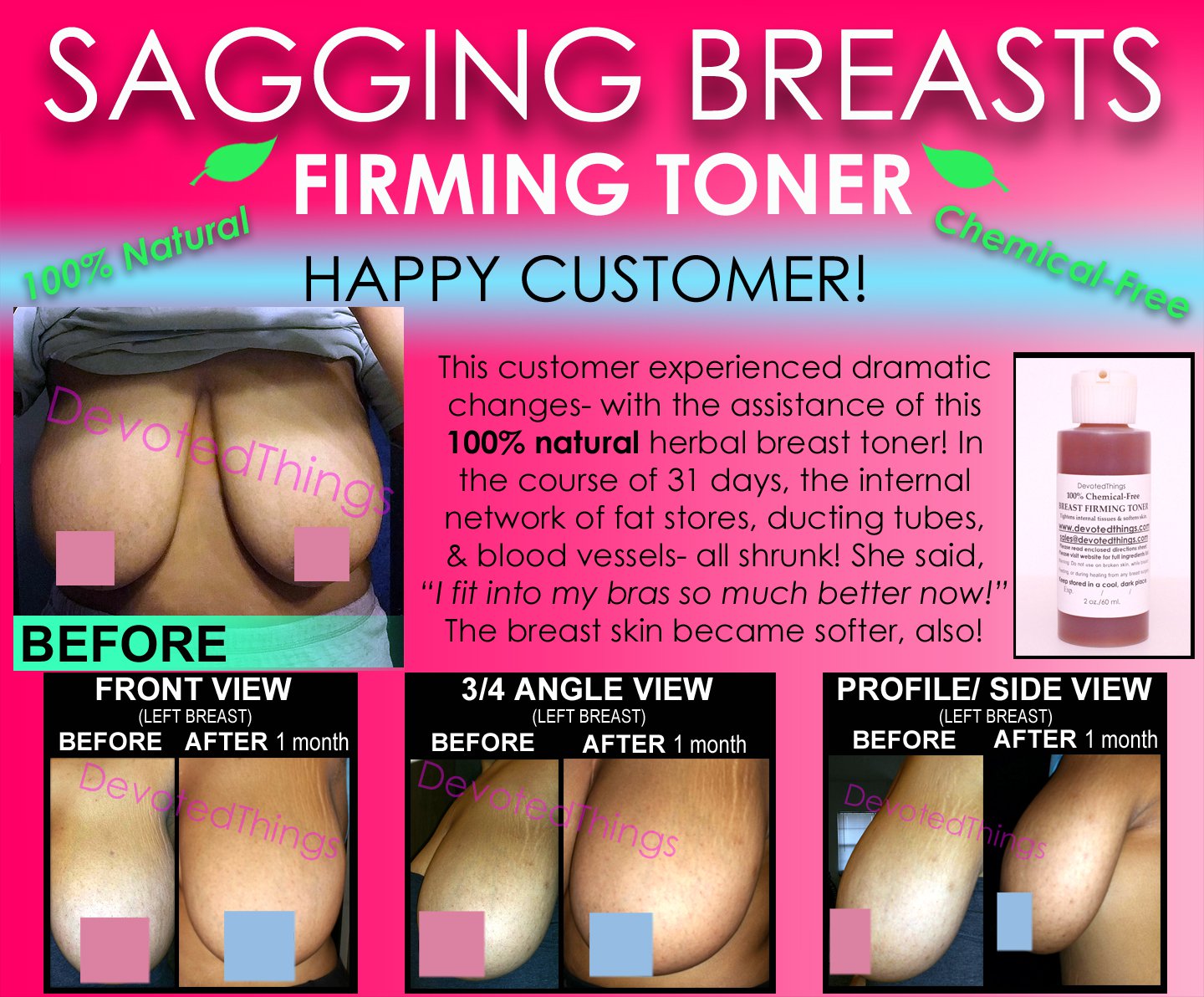 More than 10 available
Details
Shipping: United Kingdom: £14.00 (more destinations)
Condition: Brand new
WHO IT'S FOR:
Women with sagging breasts: After pregnancy, after breastfeeding, with lop-sided or uneven breasts, after dramatic weight loss, after breast implants removal, from elasticity loss/aging breasts, or other factors that cause breasts to sag.

WHAT IT DOES:
This 100% natural and chemical-free product is a liquid toner, that readily sinks into the deeper structures of the breast. The ducts (which are "tubes" inside the breast that create structure, overall shape, and lift for the breast, while being the pipeline of milk for the nipple) are the "skeleton" of the breast. Being able to restructure and repair the ducts- is essential to rejuvenating sagging breasts! The body can repair it's own breast structure if given help from the proper herbs, reputed for deep breast repair- starting at the ducts, and lifting even where the nipple rests on the breast, also! These herbs also are reputed to assist in maintaining healthy breasts, and several herbs are even free-radical scavengers! This product also helps the body to restore elasticity in the skin! A softening, anti-aging effect and healthy "glow" comes from using these powerful raw nutrients on your breasts!

WHAT IT WON'T DO:
This is not a "breast reduction" treatment, nor will it reduce breast size or fat. This does not grow breasts larger than their starting size, either. This product isn't for affecting existing stretch marks. Most other breast creams that make the above claims- contain a list of chemicals (read on to see why chemical-laden creams are potentially dangerous for breasts).

WARNING: Not recommended for currently breast-feeding women, due to ingestion by a nursing baby. Meant for use topically by all adult Post-breastfeeding or Non-breastfeeding females. Do not use on broken skin, or during healing from any breast surgery.

MY PRODUCT VS. OTHERS:
1. NO CHEMICALS. So many breast creams on the market include chemical preservatives, sulfates, texturizers, and possibly the most toxic of all- chemical fragrances. Chemicals in beauty products are now linked to potential hormone-disruption, and aiding in the growth of cancers. Placing chemicals on our breasts, an estrogen-receptor site, is potentially deadly! Getting a chemical-free breast firming toner is the best choice, and this toner has been proven (thanks to my trial models) to help the body do the incredible task of toning the breast structure- 100% naturally! Zero chemicals on your precious chest!

2. NO SURGERY, NO SCARS. Did you know that breast reduction surgeries also serve as "breast lift" surgeries? This surgery can leave devastating red or purple vertical scars on the bottom half of the breasts. Not here! This is a toner that you spread on topically, and the body does the rest of the work internally for you- whether you're sleeping or awake! No sedation, cutting, scars, recovering, asking for time off work, or potential for infection.

3. WARM TINGLE. You can feel it working! This is one of the most pleasant things about this super "healthy-feeling" breast firming toner- the comforting warm tingle after applying it! It's only noticeable if you pay attention, and so subtle that even the most sensitive breasts appreciate it!

4. NON-COMEDOGENIC. This is ideal for acne-sufferers, with ingredients that don't clog pores!

5. INTERNAL FIRMING. Many breast lotions make the mistake of focusing on tightening the skin rather than the internal tissues within the breasts. Skin layers is NOT where real firming happens! This product is different- it's designed for helping the body to repair the internal structures, first and foremost. Unlike other products, this isn't meant for other breast goals, which could dilute the effective herbs for firming! It firms breasts, and does it well. This helps balance uneven breasts, too!

6. SOFT SKIN. This softens the texture of the breast skin, and my models reported this, too! A nice bonus!

7. NO RESIDUE. Breast creams on the market can leave a film on the breasts, making putting on a bra uncomfortably sticky-feeling. Unlike creams, this liquid toner leaves behind no sticky or thick residue at all. Much like applying witch hazel toner to your face- this is a toner for your breasts! The excess droplets of this toner just evaporate off your skin!

8. SMELLS GOOD. This has a floral, tea-like aroma! No off-putting smell, and best of all, the smell is natural, not an artificial scent. Ideal for people with allergies, headaches, or rashes when encountering chemical perfumes!

9. NO MASSAGE. Massage is not necessary for this product to work, unlike what many breast-firming online tip pages may tell you! This product is a quick addition to already-busy routines of mothers and working women! Even older women love not standing around in the bathroom doing a massage! Everyone is saying, "It's so easy"! Slap this toner on, and you're done!

10. OIL-FREE. This oil-free formulation won't stain your bra. This is purposefully made as a 100% liquid, no-residue formulation. No need to even wash your hands with soap afterwards, unlike cream formulations, which add an extra hand-washing step to your routine at the sink. It's harmless and drama-free! Fast and easy to apply, effective, and best of all- 100% natural!

CUSTOMERS GET:
1. Fast next business day shipment of their order!
2. Detailed instructions in English!
3. FREE shipping domestically within the USA! I DO ship internationally!
4. I encourage you to keep in touch! Let me know how it's going? E-mails are answered within 24 hours- promptly, courteously, and thoughtfully!

NOTICE:
Prices subject to change with inflation (so stock up now)!
This natural product's statements and this product have not been evaluated by the FDA (Food and Drug Administration), and are not intended to treat, cure, or diagnose disease.
There are testimonials for these products, however, individual results may vary.

BOTTLE:
2 oz., or 60ml. This is a clear plastic cylindrical bottle with a white pull-up pour spout. Bottle's cap may vary slightly, depending on availability, however, the bottle's contents, bottle style, and bottle size will remain the same. A bottle lasts approximately 1 month, when used as directed.

INGREDIENTS: Colloidal Silver 40ppm, Certified Organic Aloe Vera Concentrate, Certified ORGANIC Alchemilla Vulgaris, Hibiscus Rosa-sinensis, Matricaria Chamomilla, Rosa Canina, Linum Usitatissimum, Certified ORGANIC Asparagus Racemosus, Hamamelis Virginiana, Certified ORGANIC Capsicum Annuum.
... [Full Description]