eBook Store Website + 200 ebooks, free install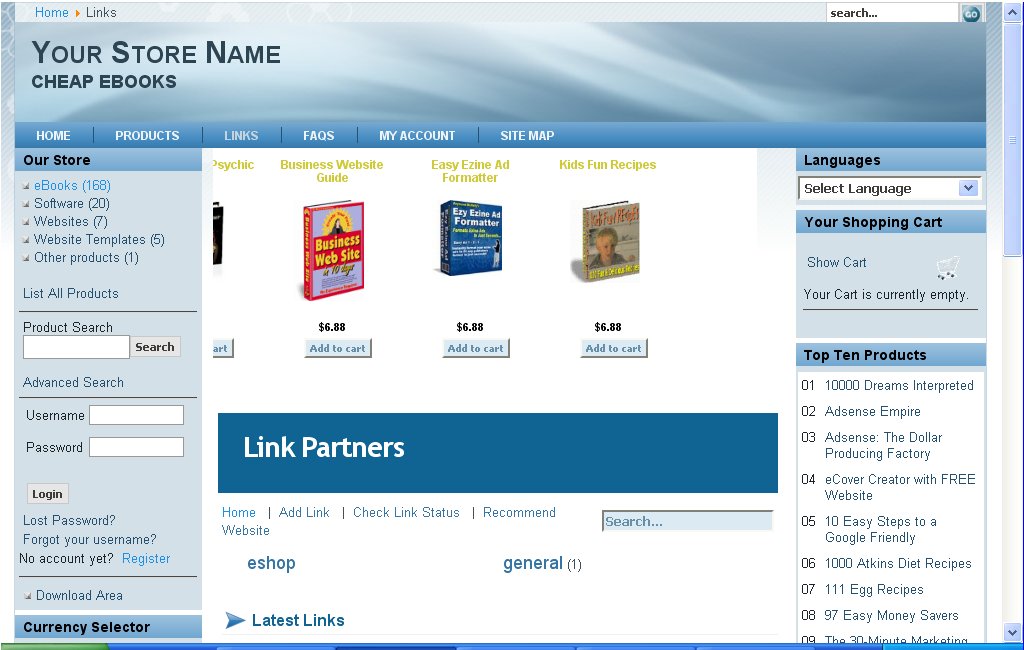 More than 10 available
Details
Shipping: United Kingdom: free (more destinations)
Condition: Brand new
*The store has not been updated recently. You may want to contact the merchant to confirm the availability of the product.
Professional Ebook Store Website Software (PHP Script)
with 200 ebooks installed

Fully Automated - 100% Profit - HUGE Income Potential!
=======================================================

Here is The Demo Site:
http://demo.e-doc-store.com/

Here is the detailed description:
http://demo.e-doc-store.com/description/des001/ebook-store-jdes-ad.html



Dear future online eBook business owner:

This is an amazing opportunity to own a fully automated EBOOK STORE WEBSITE, We're selling a professional Ebook Store Website Software. You can use it to build your own ebook store website easily! No programming is needed. Please read this whole page carefully and make sure you understand this great offer!

Here are some questions that our customers asked frequently:

(1). How Many Products does this store come with?
(2). What will this store offer me? How does it work?
(3). Can I run this site myself?
(4). Is the site automated?


Answers

(1). I'm sure you have seen the eBook stores being sold for $5-$40 or more. Those ebook stores are usually the simplest ebook stores, i.e. the functionality is limited, such as no anti-spam system at registeration, poor administrator panel interface, products are less searchable and difficult to manage. Then what is the advantage of this ebook store? Well it is professionally designed and has many additional features which other ebook store websites may not have. When you shop arround, you may compare and see if other similar products have these features.


(2). Here are some of its features:

Website(Front End) Features:
-- Comes with pre-installed 200 best-selling ebooks with full resell rights to get you started. (Note: You can resell only the 200 ebooks. This ebook store script/software is copyright protected and you are not allowed to resell it.)

-- Totally automated checkout system! Make money while you sleep! Customers get an instant download of their purchase straight after payment.

-- The purchase can only be downloaded once so the customer can't pass the download link around to friends. You can also set the number of times that the customer can download, because sometimes customer downloads may be interrupted due to network problems, as a result we recommend that you set 3 times the customer can download for each purchase.

-- Works with Australian Dollar, British Pound, Canadian Dollar, Euro, Hong Kong Dollar, Japanese Yen, Mexican Peso, New Zealand Dollar, Philippine Peso, Singapore Dollar, Swiss Franc, Taiwan New Dollar, U.S. Dollar and more...

The ebook store script provodes automated On-the-Fly Price Conversion between different Currencies. That means store owners don't need to set the currency conversion rates manually. Users just choose the desired currency, then the product prices are converted automatically.

-- 5 template colors. Choose your favorite color for your website. Change your website color anytime just with one click. That means you get 5 website templates with only one purchase.

-- Create unlimited products, categories and subcategories.
-- Built-in Links exchange module with which other websites can exchange links with you.

Google ranks pages not only based on their content, but also according to their link popularity!
The best way to show up in Google is to find as many theme-related websites as possible to provide a link back to your website, and exchange links with these sites!

Features of Links exchange module include:
1. Link and banner exchange
2. scheduled reciprocal or backlink checks
3. one-way links, two-way reciprocal links
4. thumbnail previews of websites or snap shots for links
5. admin approvals and rejections
6. email approvals and rejections
7. notifications, reminders, captcha for forms
8. link rating systems
9. directory search
10. highly configurable backend options and more...
-- Readily search engine optimized to help your website rank in the search engines.

-- Built-in banners where you can generate extra revenue from advertisement. Displays random banners every time the page is visited. Built-in Amazon. Make money from Amazon.

-- Built-in Google AdSense. Simply enter your Google AdSense ID in Admin and start earning extra cash.

-- Displays random products every time the page is visited.

-- Displays Top Ten Products and Latest Products.

-- captcha for forms - anti-spam system. It helps prevent robots to submit your forms.

-- Google Multilanguage Translation

Google Multilanguage Translation allows your visitors to browse your webpage in different languages. With 58 available languages your site will be available to more than 98% of internet users.
-- Advertisement/banner display

-- Who is Online and new member display
1) Display members/guests online.
2) Display new members registered on your website.

-- Site Map - a fast way to index your site to search engine

-- Product ratings and reviews

-- Product Scroller -- Hot!
Product Scroller is the showroom of your store. It is the best way to quickly display products for your ebook store.

-- RSS feed - broadcast your new products widely and rapidly

-- Hot Links display

-- Payment Features
Support a varity of payment gateway solutions: Paypal, 2Checkout, Cash On Delivery, eCheck, ePay, eWay, Purchase Order, Worldpay, direct credit card processing with SSL etc.

We setup the Paypal payment for you at the site installation. For other payment methods, you can setup by following the user manual.

-- Featured products display

-- Capable of extending your ebook store to ecommerce - You will not be limited to sell only digital products. You can sell all kinds of products after you properly configue the shipping module.

-- Plus many more other add-on features! There are 5000 more modules/extensions available that you can choose to download and install for free!

-- A User Manual file is included in the package. It is written in easy to understand English. Follow the User Manual and tutorials provided with this package to maintain your website on your own.





Admin Area(Back End) Features:
-- Manage your store online via your own easy to use web-based Store Admin Area.

-- Easily add your own eBooks and downloadable products, complete with pictures, descriptions and prices.
Admin Area

-- Easily change the prices and edit product descriptions to your own taste.

-- No need to add PayPal buttons. Simply enter your PayPal email address in your Admin. That's it!

-- Keeps an easy to manage record of all customers and orders online.
Admin Area - orders

-- Easily view products purchased and monthly sales reports.

-- Change your website colors with one click at admin area.

-- Editable About Us and FAQ pages that can be customized in Admin.

-- Editable prefilled Terms And Conditions and Privacy pages.

-- Google Analytics
With Google Analytics, the website owner / manager can see:
1. How many visitors visited the website per day / month;
2. What pages are visited;
3. Visitors locations: country and city;
4. Average time that visitors stay on site;
5. Visitors by IP address
6. Traffic Sources
7. Popular pages
8. Referring Sites
9. Popular Search queries
10. Operating systems and their versions
11. Browsers and their versions
12. Page Rank at Google, Alexa and Yandex
13. Indexed pages by major search engines: Google, Yahoo, Bing, Ask Jeeves, AlltheWeb and Yandex

-- one click Website Backup - You don't need to login to your web server, just backup your entire website at your admin area.

-- Newsletter Manager

-- Includes tooltips (simple instructions) on every Admin page.

-- The value worth paying for is making all of this run smoothly and reliably and look pretty.



(3). Easy to maintain website
This Ebook store website is written in PHP script + MySQL, And It is 100% customizable and extendible.

It's an instant business! You can start selling as soon as you've installed and configured the website!


(4). Fully automated website
The website is totally automated and customers get instant access to their downloads straight after they make their purchase. No more having to send files by email to your customers. This website script does it all for you, 24 hours a day, 7 days a week! You make money while you are sleeping.
... [Full Description]