NOKERO N200 Solar Light Bulb ~ No candles or Kerosene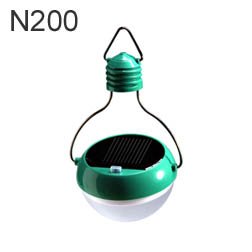 More than 10 available
Details
Shipping: USPS calculated - check
Condition: Brand new
*The store has not been updated recently. You may want to contact the merchant to confirm the availability of the product.
 
 
 

NOKERO®
Authorized Dealer
 
 

Up for sale is the Nokero N200 Solar Light Bulb.
 
The world's ONLY solar light bulb!
 
The Nokero N200 strikes a perfect balance between quality and affordability, which is why we think it is the most economical all-in-one solar light available today.
At Nokero, our goal is to make dependable solar lighting products that remain affordable, even to the world's most impoverished people.
Every day a solar light operates, it saves its owner money and can help lift a family out of poverty.
The initial investment of buying a Nokero N200 pays for itself in a short period of time (days to months, depending on market forces) yet the bulb is built to last for years.
Unfortunately, some of the ultra-inexpensive solar products on the market don't last. Cheap in all senses of the word, these lights fail within weeks, days, or even hours, because of their low-quality components or poor design.

The Nokero N200 is the most economical solar light on the market.
In most countries, the Nokero N200 pays for itself in 15 days to 2 months by eliminating the need for expensive candles or kerosene.
The Nokero N200 also makes an ideal camping light, portable RV light, emergency light or marine light.
The Nokero N200 brings 6 hours of light per night on "low" and 2 1/2 hours of light per night on "high"1, but it can be charged for multiple days in a row to extend its lighting time.
The Nokero N200 battery will last for 1 1/2 years and can be replaced to keep the bulb lasting for years.

Features


Durable


Rainproof2


Ni-MH battery lasts 1.5 years, and is replaceable


Hangs outdoors for charging


Portable


Simple to use


One (1) state-of-the-art, high quality solar panel


Four (4) wide-angle, light emitting diodes (LEDs)


AA-sized recyclable battery


Automatically switches off in bright light to save charge


On/Off switch


Specifications


Number of LEDs: Four (4)


LED Current Draw: 50/150mA


Battery Capacity (max): 1000 mAh


Battery operating temperature max: 55 degrees C


Battery operating temperature min: -20 degrees C


Housing material: ABS


Globe plastic: Polycarbonate


Hangar material: Stainless steel


Product dimensions: Length-8.5cm, Width-7.3cm, Height-17cm


Box dimensions: Length-9cm, Width-7.8cm, Height-10.3cm


Product weight: 130 grams


Daily operation time: 2.5 hours (high), 8 hours (low)


Switch type: 3-way Hi-Off-Low




FAQs
Q: How bright is the Nokero N200?

A: The Nokero N200 is bright enough to read by, cook by, study or perform household tasks. The Nokero N200 is brighter than a smart-phone screen on its brightest setting, and most importantly, The Nokero N200's light is brighter and steadier than a typical kerosene lantern or a candle.
Q: What is the best way to charge Nokero bulbs?

A: Be sure to hang the Nokero N200 in full, direct sunlight all day. Make sure the solar panels are getting the most sun possible. Tilt the Nokero N200 slightly toward the sun. Keep the Nokero N200 out of any shadows that may pass over it during the day. Do not charge the Nokero N200 from behind a window. Also remember the Nokero N200 works better on sunny days than cloudy days, but it can still charge on cloudy days.
Q: Whom is the Nokero N200 meant for?

A: The Nokero N200 can be used as a camping light, a marine light, or for many other purposes. The Nokero N200 is also meant to provide a safe, clean alternative to the fuel lanterns currently used by the 1.6 billion people worldwide who lack reliable access to electricity, but it can also be
Q: Besides replacing kerosene lanterns, what else is the Nokero N200 used for?

A: The Nokero N200 has multiple applications. The Nokero N200 can provide emergency light during or after natural disasters, as an outdoor recreation and camping lantern, or it can be used in and around outdoor patios and marine craft.
Q: How long does the Nokero N200's light last?

A: The Nokero N200 can last about six (6) or more hours a night on one day's charge. It also has a "Turbo Task" mode. On this setting, the Nokero N200 can last 2 1/2 hours on one day's charge. The Nokero N200's duration of use each night is dependent on charging conditions.
Q: How does the Nokero N200 work?

A: The Nokero N200 has a single solar panel that can be tilted toward the sun to maximize charge capacity. At night or in darkness, the Nokero N200 can be pivoted in whatever direction light is needed.
Q: Can it withstand harsh weather?

A: The Nokero N200 is durable, rainproof, and built of impact-resistant plastic. It can withstand the snow, but it will last longer if not exposed to daily freezing/thawing. The bulb is not waterproof.
Q: What size is the Nokero N200?

A: The Nokero N200 is about the size of a standard light bulb: 8.5 cm long, 7.3 cm wide and 17 cm tall.
Q: How much does the Nokero N200 weigh?

A: The Nokero N200 weighs about 6 ounces.

1 Charging conditions vary.
* The Nokero N200 can withstand a short rain shower but is not waterproof and cannot be submerged.


 


Your NOKERO N200 can be shipped Internationally.
... [Full Description]