F1 2011 / Formula One 2011 (Authentic PC Game) In Stock!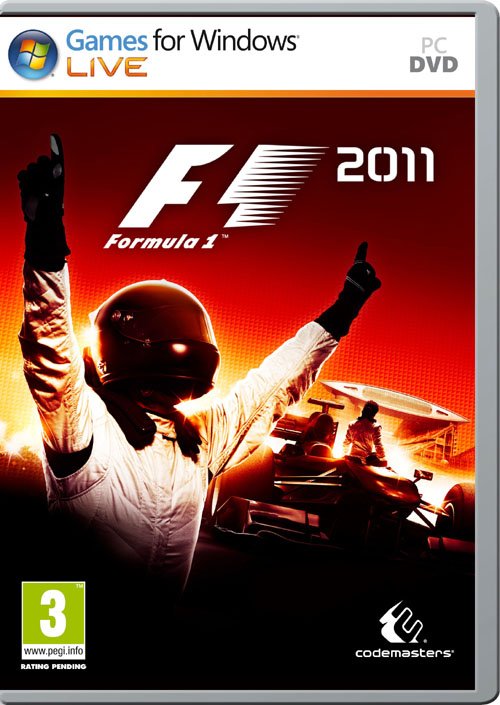 More than 10 available
Details
Shipping: United Kingdom: £3.00 (more destinations)
Condition: Brand new
*The store has not been updated recently. You may want to contact the merchant to confirm the availability of the product.
This Item is in Ready Stock!

All games sold are new in box and are shipped in their original, manufacturer sealed packaging

All games sold are 100% in English. Yes, the game play and DVD are all in English.

This game is Region-Free. It will work on computer systems worldwide if the game's system requirements are met.

The game ships with the Original, Unused CD-Key. Yes, you can register the CD-Key online and avail of online features such as online play.

Anti-Piracy Statement: We sell only authentic, original software. We do not sell illegal / bootleg copies.

Shipping: We dispatch orders by Priority Registered AirMail where a record is kept at all stages the article passes through. Additionally, the registered articles are transmitted under special precautions. This option takes 1-3 weeks for delivery, includes free insurance and does not include online tracking.

-------

F1 2011™ is the sequel to the BAFTA winning FORMULA ONE™ videogame from Codemasters®, the developer and publisher of award-winning racing games. Developed under Codemasters' exclusive worldwide agreement with Formula One World Championship Limited, F1 2011 will come complete with all the official drivers, teams and circuits featuring in the 2011 FIA FORMULA ONE WORLD CHAMPIONSHIP™.


With a new focus on multiplayer gaming, including co-op Championships and split-screen mode, F1 2011 will invite players to 'Be The Driver, Live the Life, Go Compete' with a range of innovations, improvements and enhancements on and off the track. Set to be the most enthralling season yet, the 2011 FIA FORMULA ONE WORLD CHAMPIONSHIP features two new circuits in India and Germany, new drivers, rules, tyres as Sebastian Vettel seeks to defend his title.


Developed using Codemasters' EGO Game Technology Platform F1 2011 will deliver an unrivalled FORMULA ONE experience that puts players into the heart of the world's most exciting sport, powered by cutting edge graphics, advanced physics systems and integrated network play.


• Go Compete! F1 2011 builds extensively on the multiplayer options from F1 2010. Split-screen racing is included for the first time in a high-definition FORMULA ONE title. Competitive online racing is extended with 16 players going head-to-head in GRAND PRIX™ with up to 8 AI drivers added to simulate the full grid of 24 drivers. An innovative new co-op Championship enables two players to lead their favourite FORMULA ONE team to Driver and Constructor glory across the course of a FORMULA ONE season. These enhancements are complimented by additional quick fire modes including Time Attack.



• New Circuits for 2011. Two stunning new additions to the race calendar extend the number of circuits to feature in F1 2011 to 19. Players will be able to debut ahead of the drivers on the Buddh International Circuit, the home of the first FORMULA 1 GRAND PRIX OF INDIA and players will be able to test themselves on the iconic Nürburging circuit for the first time in High Definition, as this legendary track returns for the 2011 season.



• Be the driver, live the life. From the paddock to the track, F1 2011 takes players closer to the experience of being a FORMULA ONE driver than ever before. A new Parc Ferme area, an expanded and revamped Paddock, new Pit Lane, celebration and reaction cinematics and an enhanced media interaction system fully immerse players in the glamour, pressure and excitement of being a FORMULA ONE driver. Players progress from rookie to FIA FORMULA ONE DRIVERS' WORLD CHAMPION in an extensive career mode where gamers fight to become priority driver and shape the development of the car by performing well in races and earning performance upgrades.



• All the cars, all the stars. Fully licensed, F1 2011 features all the drivers set to contest the 2011 FIA FORMULA ONE WORLD CHAMPIONSHIP, including Sebastian Vettel, Lewis Hamilton, Fernando Alonso, Michael Schumacher and Jenson Button. All 2011 teams are represented including Ferrari, Red Rull Racing, Vodafone McLaren Mercedes and Lotus Renault GP in their iconic black and gold livery.



• KERS, DRS and more! F1 2011 includes all the new rule changes set to make this year's season the most exciting yet. F1 2011 debuts DRS (Drag Reduction System) the new system which enables drivers to adjust the rear wing on the car to give a boost of up to 10km. KERS also returns, giving players an extra 80BHP for up to 6.67 seconds, enabling drivers to blast past rivals. Combined, these systems encourage close wheel-to-wheel racing with new options for both defence and attack. This season's new Pirelli tyres are faithfully simulated in the game, and if players push their car too hard they may experience a range of authentic new damage failures.



• Full Day / Night Racing. The 2011 FORMULA 1 ETHIAD AIRWAYS ABU DHABI GRAND PRIX comes alive with a full day/ night transition which recreates the special atmosphere at this unique track. Every one of the existing circuits from the 2010 roster has been given a complete visual overhaul. New atmospheric effects, including dynamic clouds, compliment a weather system which features an advanced rain model that affects on-track grip. Powered by the EGO Game Technology Platforms, F1 2011 pushes forward the graphical standard of what can be achieved in a racing game.



• The world's greatest cars, the most exciting racing. Building on the heritage of producing award-winning racing games for over a decade, Codemasters is uniquely placed to realise the spectacle and exhilaration of racing 200MPH+ FORMULA ONE cars for all fans. F1 2011 can be tuned for players from a wide range of skill levels, from the casual gamer to the hardcore simulation enthusiast and those in between, with a range of differing skill levels. A huge range of vehicle variables can be tuned to suit each player's unique driving style, or drivers can entrust their Race Engineer to set their car up and head straight onto the track. F1 2011 will support a comprehensive range of racing wheels for the ultimate racing experience.



• Unprecedented authenticity. Codemasters has used its unprecedented access to the world of FORMULA ONE to connect the development team directly with FORMULA ONE teams and tyre manufacturers. Extensive consultancy has taken place with a range of FORMULA ONE professionals, including race engineers, mechanics and drivers. This has been combined with real world data including CAD and on-board telemetry to deliver a race experience complete with authentic handling, accurate circuits and precisely modelled racing cars.



• EGO powered FORMULA ONE. F1 2011 is being developed on the EGO Game Technology platform, evolved from the award winning EGO engine. Enabling Codemasters development talent to share tools and technology across Studios and Central Technology teams, the EGO Game Technology Platform empowers Codemasters game designers to realise their creative visions across multiple platforms featuring cutting edge graphics, powerful AI, advanced physics systems and integrated network play.


System Requirements:

Minimum Specifications

• Windows XP/Vista/7
• DirectX 9.0c
• Intel Core 2 Duo @ 2.4Ghz or AMD Athlon X2 5400+
• 2GB Ram
• Graphics Card: GeForce 7800/Radeon X1800 or higher
• DirectX Compatible Soundcard or onboard audio
• Dual Layer Compatible DVD-ROM Drive
• 12.5 GB Hard Drive Space

Recommended Specifications for DX11

• Windows 7
• DirectX 11
• Intel Core i5 or AMD Phenom II x4
• 4GB Ram
• Graphics Card: GeForce GTX460 or ATI Radeon HD 5850
• DirectX Compatible Soundcard or onboard audio
• Dual Layer Compatible DVD-ROM Drive
• 12.5 GB Hard Drive Space

Network Requirements

• Broadband internet connection required (512kbps+ recommended)
• TCP/IP Network

Supported Graphics Cards

• ATI Radeon x1800, x1900, x1950, HD2400, HD2600, HD2900, HD3XXX Series, HD4XXX Series, HD5XXX Series, HD6XXX Series

• NVIDIA Geforce 7800, 7900, 7950, 7950Gx2, 8400, 8600, 8800, 9600, 9800, 9800Gx2, GeForce 210, GT220, GTS250, GTX2XX Series, GTX4XX Series, GTX5XX Series

• Not compatible with all integrated sound/graphics solutions (inc. laptops).
... [Full Description]