nVidia GeForce 8600 GT 512MB DDR2 PCI-E x16 Graphic Card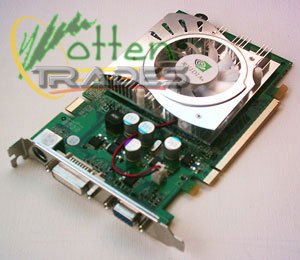 More than 10 available
Details
Shipping: United Kingdom: free (more destinations)
Condition: Brand new
*The store has not been updated recently. You may want to contact the merchant to confirm the availability of the product.
nVidia GeForce 8600 GT 512MB DDR2 PCI-Express x16 Graphics Card

FEATURES
» nVidia unified architecture with GigaThread Technology
» Full Microsoft DirextX 10 Shader Model 4.0 support
» nVidia SLI Ready
» 16x full-screen anti-aliasing
» True 128-bit floating point high-dynamic-range (HDR) lighting
» nVidia Quantum Effects physics processing technology
» Dual-link DVI outputs support two 2560x1600 resolution displays
» nVidia PureVideo HD technology
» PCI Express support
» HDCP support
» OpenGL 2.0 support
» nVidia nView multi-display technology
» Made for Microsoft Windows Vista

AT A GLANCE
» GeForce 8600 GT (540MHz clock)
» 512MB 128-bit DDR2 Memory (1.2GHz effective)
» Shader Clock (MHz): 1190
» 22.4GB per Second memory bandwidth
» Fill Rate (MTexels/sec.): 4320
» Stream Processors: 32
» PCI Express x 16 Compatibility (PCI Express Compliant)
» Integrated nVidia TV Encoder (HDTV, S-Video, Composite-OUTPUT)
» PC99DB-15 analog connector (VESA DDC2B+DPMS)

DRIVER SUPPORT
» nVidia ForceWare Unified Drive Architecture (Vista/Windows XP/MCE)
» Full DirectX 10 Support
» Full OpenGL 2.0 support

SYSTEM REQUIREMENTS
» 1 GB of System Memory
» Microsoft Windows XP/Vista
» 400+ Watt Power Supply
» PCI-Express motherboard with PCI-Express x16 slot

Package Contents:
» Quick Installation Guide
» Driver CD
» 1x S-Video Lead

----------------------------------------------------------------------------------------------------
WANT MORE INFO? Please read below...

OVERVIEW:
♦ Dual-link DVI
Able to drive two of the industry's largest and highest resolution flat-panel displays up to 2560x1600.

♦ nView® Multi-Display Technology
Advanced technology provides the ultimate in viewing flexibility and control for multiple monitors. NVIDIA GPUs are enabled to support multi-displays, but graphics cards vary.

♦ SLI™ Technology
Delivers up to 2X the performance of a single GPU configuration for unparalleled gaming experiences by allowing two graphics cards to run in parallel. The must-have feature for performance PCI Express graphics, SLI dramatically scales performance on 60 top PC games.

♦ Full Microsoft® DirectX® 10 Support
World's first DirectX 10 GPU with full Shader Model 4.0 support delivers unparalleled levels of graphics realism and film-quality effects.

♦ OpenGL 2.0® Optimizations and Support
Ensure top-notch compatibility and performance for all OpenGL 2.0 application.

♦ NVIDIA® Lumenex™ Engine
Delivers stunning image quality and floating point accuracy at ultra-fast frame rates: 16x Anti-aliasing: Lightning fast, high-quality anti-aliasing at up to 16x sample rates obliterates jagged edges 128-bit floating point High Dynamic-Range(HDR): Twice the precision of prior generations for incredibly realistic lighting effects-now with support for anti-aliasing.

♦ NVIDIA® Quantum Effects™ Technology
Advanced shader processors architected for physics computation enable a new level of physics to be simulated and rendered on the GPU - all white freeing the CPU to run game engine and AI.

♦ NVIDIA® ForceWare® Unified Driver Architecture (UDA)
Delivers a proven record of compatibility reliability and stability with the widest range of games and applications ForceWare provides the best out-of-box experience and delivers continuous performance and feature updates over the life of NVIDIA GeForce GPUs.

♦ PCI Express
Designed to run perfectly with the next-generation PCI Express bus architecture. This new bus doubles the bandwidth of AGP 8X delivering over 4 GB/sec. in both upstream and downstream data transfers.

♦ Dual 400MHz RAMDACs
Blazing-fast RAMDACs support dual QXGA displays with ultra-high, ergonomic refresh rates - up to 2048x1536 @ 85Hz.

♦ PureVideo™ HD
Available on HD DVDs and Blu-ray discs, high-definition movies are bringing an exciting new video experience to PC users. NVIDIA® PureVideo™ HD technology lets you enjoy cinematic-quality HD DVD and Blu-ray movies with low CPU utilization and power consumption, allowing higher quality movie playback and picture clarity. PureVideo HD technology provides a combination of powerful hardware acceleration, content security, and integration with movie players, plus all the features found in PureVideo.

♦ High-Quality Scaling
Enlarges lower resolution movies and videos to HDTV resolutions, up to 1080i, while maintaining a clear, clean image. Also provides downscaling of videos, including high-definition, while preserving image detail.

♦ HDCP Support
High-Bandwidth Digital Content Protection (HDCP) is a form of copy protection technology designed to prevent transmission of non-encrypted high-definition content as it travels across DVI or HDMI digital connections.

----------------------------------------------------------------------------------------------------
THANK YOU FOR VIEWING. WE HOPE YOU WILL ENJOY DOING BUSINESS WITH US!
... [Full Description]