1000 Hands Goddess Dance performance DVD The Most Amazing Dance Performance ever!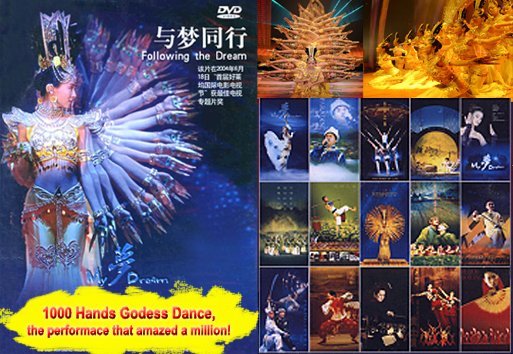 More than 10 available
Details
Shipping: United Kingdom: £46.00 (more destinations)
Condition: Brand new
*The store has not been updated recently. You may want to contact the merchant to confirm the availability of the product.
Very important, please read!!!
*** Shipping fee starts at 10 weight scale and increases with for every 10 weight scale. For example: Usually weight scale for a single DVD item is 1, which means: no matter you buy 1 or 10, the shipping fee will be the same! Shipping fee is based on your FINAL order weight scale! That means, for each item, you can just buy 1 or how many you want! The first 10 weight scale shipping fee is high, but each additional 10 weight scale shipping fee are much lower! The more you buy, the less cost of postage for each item will be. Shipping fees for different countries are different. Please check FAQ (on top right corner of this webpage) for more detailed information.
*** All our items are legal Asian products, we can provide receipts to prove its authenticity! NO illegal copies, bootlegs! Quality guaranteed!
*** For retailers and personal buyers, we accept 100% return, exchange or refund!! (Conditions apply! Read FAQ for more information!)
*** We prefer PayPal payment, world wide buyers can buy online and pay by credit card via PayPal online directly! If you wish to pay us by other method, please contact us.
*** Items will be sent within 3 business days after payment cleared. We sent items via EMS registered and insured international express mail! Tracking number will sent to your PayPal payment email within 2 business days. Usually it takes 5 to 15 days for items to arrive to world wide!
*** If you have any questions, please click FAQ (on top right corner of this webpage), or contact us directly at lilly_service@yahoo.com. Thank you!

* * * * * * * * * * * * * * * * * * * * * * * * * * * * * * * * * * * * * * *
************** ! Item Description! *******************
* * * * * * * * * * * * * * * * * * * * * * * * * * * * * * * * * * * * * * *

1000 Hands? Goddess Dance Performance DVD

The Most Amazing Dance Performance ever!
Simply can not be missed!!! And there?s more to it...

Awesome, thrilling, tear jerking ... these are the words used by many to describe the 1,000 Hands Goddess Dance performance.

It was an unusual dance performed by unusual people. With 21 young deaf-mute performers, the dance featured the 1,000-hand Kwan-yin, goddess of mercy in Buddhism. It required all the dancers to perform in sync as one being in rhythm with the music. Without the ability to hear or speak, these dancers achieved the feat through signs.

So far, this dance tops any other show at the gala, according to the opinions of the members of the audience who voted online.

Choreographed by Zhang Jigang, one of China's most prominent dance choreographers, the dance is the fruit of many years of practice.

Its first major international debut was in Athens on Sept. 28 at the closing ceremonies for the 2004 Paralympics. But it had long been in the repertoire of the China Disabled People's Performing Art Troupe and had traveled to more than 40 countries.
To help the dancers catch the rhythm of the music, sign language coaches were at the four corners of the stage. The signers and the dancers performed beautifully as the dance earned six rounds of applause.

"I want to cry, it is just too beautiful to be true, but it is truly there, right in front of your eyes!" Zhou Tao, one of the masters of ceremonies at the gala show, told the audience immediately after the dance came to a close.

The 21 dancers range from 27 to 13 in age. The 27-year-old leading dancer Tai Lihua is the soul of the dance.

Tai lost her hearing at age 2 after an injection of streptomycin that was meant to cure a fever. But she showed her extraordinary gift for dance when she was very young.

She began at a school for deaf-mute people at the age of 7 and shortly after felt the rhythms of a drum beat played by one of her teachers.

She first felt it in her feet and it sent a vibe through her whole body and into her mind. From then on, she knew dance could be a visible form of music for her to express the beauty in her mind.

Tai started her formal training as a dancer at the age of 15, after she was accepted into the the China Disabled People's Performing Art Troupe. There she learned to let her body feel the music and express herself with the language of dance.

After years of training, she grew from a quiet, deaf-mute girl to a shinning star. Tai is now not only a prize-winner in international events, she is also the only Chinese dancer who has performed in the Carnegie Hall in New York and Scala Theater in Italy.

The peacock dance performed by Tai, originally created by Yang Liping, one of China's most outstanding female dancers, moved the proud Yang so much she put away her longtime resentment to her imitators and volunteered to become one of Tai's teachers.

Yang once said she was so impressed with Tai's fortitude because she was not sure if she could perform her peacock dance without hearing the music.

Although Tai and her colleagues had done the Kwan-yin dance countless times, they practiced day and night during the month before the CCTV Spring Festival gala.

They awoke very early every morning for a jog in Beijing's chilly wind. Then they spent many hours rehearsing until late evening. They were yearning for a performance without a single flaw. And they certainly succeeded.

"Even though the dancers are deaf-mute," said choreographer Zhang, "I don't want to see them dance just for the form, without a soul. I expect them to show, through their dance, the best of Chinese culture.

"I started working with the deaf-mute dancers 10 years ago. At first I had only sympathy for them. But beyond my expectation, I have found they have an endless creativity. They have such a strong will that they have turned the impossible into possible. They are a special group of performers, with special personalities and a special will power," Zhang said.

In this DVD, not only you can see this performance, but also more then 1 hour other great shows by this group of Special Aritists!!
Run time: 83 Minutes.
English subtitles is available on this New Released DVD!
Region All, can be played in any region DVD players!
Condition: New and sealed in keep case.
SIMPLY CAN NOT BE MISSED!
... [Full Description]