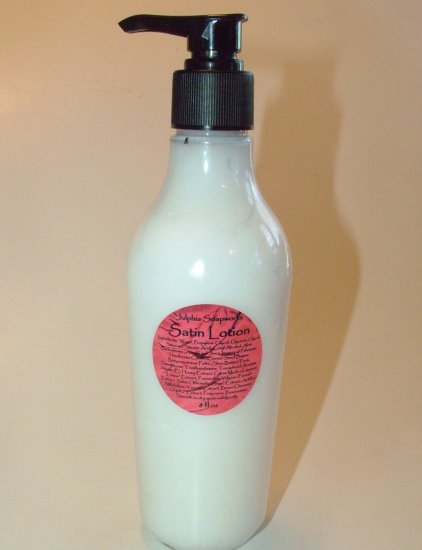 More than 10 available
Details
Shipping: United Kingdom: £10.00 (more destinations)
Condition: Brand new
*The store has not been updated recently. You may want to contact the merchant to confirm the availability of the product.
By special request for those of you that asked for a lighter pumpable lotion! Our satin lotion is a premium blend loaded with botanicals such as jojoba, yarrow and honey extracts. Generous helpings of cocoa and shea butter leave your skin feeling unbelievably soft & smooth. This lotion is non-greasy & fast absorbing, rub indulgently over hands and body to experience for yourself. Choose unscented or select from any of our scents below. 8 oz.

Ingredients: Water, Propylene Glycol, Glycerin, Glycol Stearate, Stearic Acid, Cetyl Alcohol, Aloe Barbadensis (Aloe) Leaf Juice, Isopropyl Palmitate, Theobroma Cacao (Cocoa) Seed Butter, Butyrospermum Parkii (Shea Butter) Fruit, Dimethicone, Triethanolamine, Tocopherol Acetate (Vitamin E), Honey Extract, Citrus Medica Limonum (Lemon) Extract, Foeniculum Vulgare (Fennel) Extract, Salvia Officinalis (Sage) Extract, Achillea Millefolium (Yarrow) Extract, Buxus Chinensis (Jojoba) Extract, Fragrance, Preservative

Scent list will NOT be displayed at checkout so please write down your selections for reference. Denote product type & scent selections in the notes section at checkout (Paypal) or email to orders@julphia.com (Google Checkout). If youd like the fragrance particularly strong or light please specify that as well. We are also happy to blend any combination of scents together if youd like a custom scent.

If youd like a more readable version of this list emailed to you as a Word document please email your request to scents@julphia.com Designer duplicates are renamed in accordance w/ eCrater policies. Dont get overwhelmed- if you want recommendations just send me a note with your likes and dislikes and Ill be happy to help!

New Scents Added 11/07

FRUITY
Apricot: Fresh ripe apricot, sweet & true
*Apricot & Freesia Blossom: The plump sweetness of the apricot blends perfectly w/ intoxicating freesia blossom
Bergamot & Mandarin: Delicate notes of bergamot & mandarin marry wonderfully in this soft citrus blend
Berry Compote: A delicious medley of blueberry, raspberry, strawberry & blackberry
Blackberry Bliss: A medley of blackberry, cassis, jasmine, lily, & cream
*Black Cherry: A bold & intense scent of delicious & sweet black cherries
Black Currant & Raspberry: Juicy sweet ripe raspberry puree blended w/ tart black currants
Black Raspberry Vanilla: Inspired by sun-sweetened, delicious dark berries warmed by creamy vanilla
Blackberry Basil: A delicious mix of rich sweetness of sun-kissed blackberries entwined w/ green leaves, white musk & an unexpected herbal zing of basil
*Blackberry Sage Tea: Perfect ripe blackberries w/ musky sage & a hint of tea to balance
*Bliss Cocktail: A sweet, tropical blend of ripe, juicy mango & fresh coconut infused w/ warm notes of sweet honey incredible
Blueberry: A gorgeous single note fragrance just bursting w/ fresh blueberries
Calypso: Sweet mangoes dancing w/ tart limes
Cantaloupe Lily: A very soft & sweet smooth melon w/ hints of white lily
Cantaloupe: Cool juicy slices of fresh melon
Cherry Limeade: A cool & refreshing combination of zesty lime & sweet cherries
Citrus Cooler: A Caribbean cocktail of freshly squeezed lime, sweet orange juice, slices of chilled pineapple & lemon
*Citrus Martini Sorbet: A stimulating blend of grapefruit, lemon & lime, w/ a touch of pineapple, blackberry & champagne
Coconut Lime Daiquiri: Zesty fragrant lime supported by the warmth & sweetness of coconut
Concord Grape: Sweet & robust grape - fresh yet fruity fragrance w/ additional notes of raspberry & plum
Cranberry Cherry Crush: Tart cranberry notes enhanced w/ the sweet smell of cherries
*Cranberry Yuzu: This lively medley is a blend of tart cranberries & strong yet bright yuzu, the Japanese grapefruit
Fresh Mango: Fresh w/ citrus top notes, a supporting middle of ripe peaches & oozing fresh mango
*Fresh Picked Strawberry: Nothing but mouthwatering fresh strawberry
Fresh Squeezed Oranges: Pure citrus orange juice at its finest
Ginger Plum: Sweet plums topped off w/ a sprinkle of fresh grated ginger. Fresh & gingery yet sweet
Grapefruit Zest: Pure sharp grapefruit zest, refreshing & mouth-puckering!
Green Apple: Tart, green Granny Smith apples, so strong & true to the actual fruit
Honeyed Citrus: A decedent blend of fresh honey & sweet Israeli orange
*Juicy Cherry: Pure deep red juicy cherries w/ just the barest touch of lemon zest & fresh picked raspberries
Kiwi Sherbet: A great springtime scent w/ ethereal notes of citrus & berry
Kiwi Strawberry: Screams fresh fruit. Tart, sweet, & dripping w/ kiwi & strawberry
Kudzu: An intensely tropical fruity type w/ notes of mango, papaya & accented w/ rose, vanilla bean, & white musk
Lemon Spice: Fresh tart lemons envelop just a hint of nutmeg & cinnamon
*Lime Sugar: Lime w/ attitude - bursting w/ bright notes of lime w/ lush background notes of musk & tiny floral notes
*London Lemon Curd: Sweetened w/ real vanilla to balance the tartness of the pure lemon, & touched w/ just a hint of sugar
*Macintosh Apple: A stunningly realistic true apple scent of a crisp juicy Macintosh fresh from the tree
*Mandarin Honey: Succulent mandarin oranges drizzled w/ pure wild honey
*Mandarin Martini: A sweet, citrusy, summer cocktail comprised of top notes of mandarin, grapefruit, sweet orange & tangerine; a fruity-floral mid-section of passionfruit, black currant, & ginger; & a touch of sweet vanilla in the bottom
Mango Cucumber: Hints of ripe melon round out this fresh mango cucumber fragrance
Montana Huckleberry: A perfect mix of tart & sweet all in one berry!
Peach: A freshly picked Georgia peach just oozing w/ juicy goodness
Pineapple Kiawe: True pineapple accented w/ woody notes of lacewood, teak, sandalwood & acacia koa
*Pineapple Cilantro: Sweet & true pineapple comes together w/ just a touch of fresh green cilantro for a tropical garden kick!
Pink Grapefruit & Sugar Cane: A fresh & sparkling citrus blend based on pink grapefruit & wild honey w/ a touch of vanilla Pomegranate: A complex & earthy mix of pomegranate, pineapple, guava, & musk
Pomegranate Peach: Unique, uplifting fragrance of fresh ripe pomegranates infused w/ a splash of fresh juicy peaches
Quince: Succulent notes of fresh sweet pear w/ hints of green floral on a base of amber & sandalwood
Raspberry: A smooth, strong, sweet raspberry. Pure & sun kissed w/ ripe berry notes
Raspberry Guava: A sweet fruity blend of vine-ripened raspberry & tropical strawberry guava w/ floral nuances
*Raspberry Lemonade: Tart juicy lemons & raspberries over ice w/ a dollop of sugar
Raspberry Rhubarb: This fragrance sings of the bright sassy taste of seedy raspberry jam, tangy rhubarb & green berries
Succulent Fig: A simple sweet scent of warm ripe California figs
Starfruit & Mango: Sweet starfruit collides w/ mouth-watering mango for the ultimate tropical temptation!
Tangerine Spice: An intense blend of tangerine, nutmeg, & cloves
Tequila Lime: Fresh squeezed lime topped off w/ dash of top-shelf tequila
Vanilla Bean & Boysenberry: A unique blend of vanilla beans & juicy boysenberries
*Vanilla Grapefruit: Dark tonka vanilla beans combine w/ tangy grapefruit in this subdued & creamy fragrance
Watermelon Kick: Sweet ripe watermelon w/ a kick of orange & kiwi
*Watermelon Martini: Iced watermelon martini w/ a splash of fresh lime & quince followed by delicate mimosa & lily petals
Yuzu: Yuzu, Japanese Grapefruit, is a strong and bright hybrid of grapefruit and mandarin

HERBAL, SPICE & EARTHY
Arabie: Hypnotic, rich & woody w/ hints of cedar, sandalwood resin, mandarin, fig, nutmeg, cumin, & clove
Basil Nectarine: A dense basil scent infused w/ the barest touch of plump ripe nectarines & a dash of lemon
*Baton Rouge: Our rich & deep fragrance is mixed w/ a sultry Cajun blend of vanilla & spices to tempt your senses
Black Amber Musk: A sultry blend of black amber & musk topped off w/ spicy nuances of nutmeg & clove
*Black Pepper Chai: Strong & pungent black pepper softened by cinnamon, nutmeg, & cardamom w/ a hint of vanilla
Botanical Hemp: Fresh & green w/ an herbaceous mix of sage, camphor, licorice, cedarwood & tonka bean
Campfire Smoke: Crisp flames licking at the dry wood, pungent smoke rising toward the heavens
*Cedar & Saffron: The warm fragrance of Kashmiri saffron masterfully blended w/ earthy woods, patchouli, vanilla & citrus
Cedarwood Mint: A clean unisex blend of the pungent, gingery cedar scent beautifully balanced by sweet, green mint
Chergui: A magical blend of honey, musk, incense, tobacco leaf, hay sugar, amber, iris, rose, & sandalwood A must try!
Chinese Star Anise: Widely used in Chinese, Indian, & Indonesian cuisine, this heady essential oil is similar to anise but has more depth (Little known biotech side note CSA is used in the manufacture of Tamiflu)
Citrus Spice: Cinnamon & warm clove in an extravagant rich base of amber, vanilla, powder & oak moss
Crackling Firewood: A cozy wood fire on a brisk night
Dirt: The epitome of earthy scents freshly turned dirt
Dragons Blood: An exotic scent w/ notes of orange, petitgrain, geranium, clove, sandalwood & lily
Dusk: Rich earthy tones of sandalwood, cedar & musk blended w/ soothing tones of vanilla
Enlighten: An enlightening blend of aged vanilla & dried orange slices ending on a woody patchouli background
Eucalyptus: Strong & fresh medicinal eucalyptus great for opening up the sinuses!
Exotic Amazon Teakwood: Luscious green mosses, spruce, teakwood & fresh cut cedar blanket a subtle base of amber, musk, patchouli & mysore sandalwood
Fig Leaf: Juicy fig w/ a background of green notes topped of w/ jasmine & anise
*Forest Muse: Warm, clean & woodsy, this unisex fragrance masterfully blends fern, cypress, Siberian fir & pine needles w/ sweet bay & wax myrtle Warmed w/ just a touch of cinnamon & cardamom & infused w/ rich oakmoss
Forest Pine: A very invigorating, woodsy, sweet, green pine fragrance
Frankincense & Myrrh: Ancient, exotic, rich & deep A woodsy scent w/ acrid myrrh & the barest touch of sweetness
*Ginger Essence: Warm notes of ginger are enhanced by lemon, black currant, & nutmeg, leading to a floral jasmine-led middle, w/ a sweet, smooth drydown of white musk & amber
*Goddess: Smooth & complex, rich w/ ancient spices mixed w/ sweet honey, amber & musk oil
Golden Clove: A ripe & spicy clove w/ notes of almond, pepper, cinnamon & clove & a sugary sweet spicy vanilla base
Gooseberry Ginger: Sharp, tangy ginger opening w/ a burst of citrus sweetness of pink grapefruit, lemon, pansy & edelweiss Middle notes of sour cherry, lavender & fresh Chinese ginger grounded w/ notes of resin, oak & musk
Grass Patch: A sweet green grass fragrance reminiscent of summer picnics
*Green Tea & Ginger: Strong herbal green tea steeped w/ ginger root
Hayride: Fall is in the air w/ this fragrance that is sure to capture the essence of a hayride
Herb Garden: A lush green garden of basil, sage & tomato leaves
Herbal: A truly herbal elixir, fresh yet sultry
Holiday Memory: A sweet yet spicy festive holiday scent w/ notes of mulled fruits, cloves, cinnamon, sweet anise, a touch of mistletoe & a sweet musky woody dry-out
Imperial Sandalwood: A heady & exotic profusion of amber, nutmeg, cardamom & coffee enveloping fragrant sandalwood. A touch of patchouli, vetiver, vanilla & amber round it out
Indonesian Cinnamon: Otherwise known as Cassia Vera, this warms the senses w/ aromatic & sweet woody spice
*Karmic: An exotic blend of orange spice, lavendin & patchouli
Mahogany: This is a very intriguing blend of cedar, mahogany & citrus enhanced w/ crushed clove buds, amber & musk Mandarin Basil Lime: Herbaceous basil notes join w/ spicy wood & black pepper to round out this bright citrus fragrance
Mata Hari: A striking blend of French vanilla bean & Javanese sandalwood mixed w/ cedar & moss
Mayan Gold: Exotic, sweet as honey, warm as the sun, this mesmerizing fragrance has a blend of spices, woods & fruits
Moroccan Cumin & Comice: This nutty, peppery pungent fragrance is mellowed by sweet comice pear into an unusually compelling & unique scent. My very least favorite fragrance, though some do love it
Nag Champa: An exotic blend of florals, spices & resins from India traditionally used in incense
*Noire Cedre Vino: Freshly harvested Darrow blackberries blend w/ dew laden cedar tips & exotic violet
Oakmoss: Botanical & earthy a sexy favorite for many men
*Padparascha: Top notes of spicy pepper, sweet citrus, & juniper lead to a mysterious middle of jasmine & ylang, w/ a drydown of sandalwood, amber, musk, cedarwood, & patchouli
*Pomegranate Sage: A vibrant botanical scent w/ herbal sage & sweet pomegranate
Pure: Relaxing notes of rose petals surrounded by lavender, jasmine, ylang ylang, bergamot & patchouli
Queen of the Nile: A sensual & exotic blend of Egyptian fragrances suited for a queen
*Raspberry Tomato Leaf: A unique garden scent that blends just a touch of ripe red raspberry w/ green tomato leaves
Rustic Citrus: Orange, lemon & bergamot w/ sandalwood, pepper & a medley of spices & herbs
*Sage, Sweetgrass & Cedar: Grassy green notes w/ hints of lavender sage, rosemary, clove, pine & oakmoss
Sandalwood & Amber: A warm blend of sandalwood & amber w/bergamot, cedarwood, patchouli & vanilla
Sanguigno Orange & Patchouli: Mouth puckering Sicilian blood orange balanced w/ the warmth of patchouli
Sawdust: Freshly cut wood, a surprisingly good comfort scent
Spice Market: Fruity spice with creamy orange & bottom notes of vanilla, cinnamon, clove, & amber
*Spicy Lime: Crisp Peruvian lime w/ notes of Indonesian clove, ginger, nutmeg, vanilla bean, patchouli, & sandalwood
Summer Chills: A chillingly seductive green medley w/ hints of vanilla & an enticing mix of damp woods & musks
Sweetgrass: Traditionally used in smudge ceremonies, this sacred herb is both sweet & green
Tea for Two: Warm & tender fragrance of lapsang souchoung tea vapors w/ a smoky woody aroma This is an interesting blend of spiciness & smokiness of slowly brewed tea w/ notes of aniseed, gentian, bergamot, ginger, cinnamon, honey & vanilla
Tibetan Teahouse: A unique & smokey incense fragrance w/ very strong oriental tea heavily infused w/ spicy star anise, cardamom, orange, ginger, & pepper
Tobacco: This is sweet & smooth, a rich blend of pipe tobacco
Turquoise: Earth notes of jasmine, lavender, & ylang ylang emerge & dry notes of amber & sandalwood
Tuscan Tomato & Basil: A leafy garden scent embodying a green bouquet of tomato leaves w/ light basil, mint & anise notes
Vintage Musk: A unisex musk w/ notes of patchouli, ylang ylang & rose to temper the musk
Violet & Birch: A stunning woodsy floral infused w/ the true sweetness of a violet on a woodsy birch background
Voluptuous: A sexy & mysterious fragrance w/ an indulgent blend of vanillas, sandalwood, & hints of musk
White Willow & Tea: A green citrusy tea & wood type w/ a woody cedar & white musky base
*Wood Coffee: A unique & earthy mix of cardamom, ginger, coffee, Indian patchouli, & woods
Wood Violet & Sugar Maple: An exotic, sweet as honey, blend of spices, woods & fruits
Woodberry: Black currant meets gooseberry & mulberry w/ a soft violet middle note & a soft wood dry down

FRESH & CRISP
Aqua: A fresh blend of citrus notes, rosemary spiciness, jasmine, a hint of wood & ocean breezes
Artic Berry: A succulent winey raspberry scent w/ hints of green leaf, tea, clear ozone air & snow kissed mountains
*Basil Sage Mint: These three green notes from Mother Natures garden combine beautifully
Beau Rivage: Hints of a clean water essence, fresh fruits & herbs, w/ bottom notes of patchouli & exotic wood resins
*Bonsai: The very essence of sophistication, this complex fragrance is a crisp unisex blend of citrus, woods, & floral
Cactus & Sea Salt: A unique botanical of green cactus topped off w/ fresh sea spray, driftwood & sea moss
Clean Cotton: A clean pure blend of marine air & peony, like fresh linens drying on the balcony
*Clementine Lavender: The fruity scent of sweet clementines mingled w/ tart tangerine & a hint of French lavender
Clover Leaf: A unique green scent soft & a bit sweet
Cotton Blossom: A delicate blend of cotton blossom touched w/ a hint of mandarin orange
Cucumber: Crisp & true cucumber, quite fresh & light
Cucumber Melon: Crisp fresh cucumber tossed w/ an assortment of succulent melons
Eau de Sud: This unique & natural smelling blend begins w/ notes of Turkish bergamot, Chinese mandarin, lemon, & grapefruit Midnotes of mint & basil give way to bottom aquatic notes of cypress, vetiver, & vervaine
Eucalyptus Spearmint: A refreshing herbal blend of eucalyptus, sage, spearmint, & lavender
First Snow: A perfect crisp winter scent of fresh mint touched w/ pine & jasmine
Fresh Sugar Cane: Bergamot & Brazilian sweet oranges combine w/ white lily, heliotrope & petitgrain in an amber & vanilla base
Frosted Snow Drops: A crisp fresh fragrance w/ notes of jasmine, citrus, ginger, rose, carnation, & peach. Base notes of patchouli, musk, powder & vanilla
Frosted Vanilla Mint: A refreshing mint-vanilla blend that provides a soft creamy base to tone down the peppermint
Frozen Green Tea Soufflé: Fluffy green tea soufflé blended w/ chilly crème de menthe
*Gin Martini: Canadian juniperberry blended w/ Siberian fir. Stirred or shaken, its the perfect cool crisp scent & a lovely blender w/ fruit scents
*Ginger Lime: The zing of ginger combined w/ the fresh scent of a juicy lime. If you're a lime lover, you'll adore this one!
Grapefruit Blossom: Lusty, rich fresh grapefruit blended w/ a bouquet of chamomile, linden, columbine, orchid & hibiscus
Grapefruit Mint Cuttings: A fresh spa blend of grapefruit, yuzu, red ginger & lemon masterfully blended w/ light grapefruit mint, cucumber & lettuce
Herbal Citrus Sorbet: A crisp bouquet of lemon verbena, neroli, pettitgrain, & olive leaf, grounded w/ green base notes of violet leaf, cedar & oak & just a touch of sharp lime & fig
Honey & Propolis: A soft & delicate blend of sweet honey w/ hints of refreshing green notes
Juniper & Aloe: Pure herb & woods w/ juniper, aloe & night blooming jasmine w/ a slight dry soft heliotrope & musk
*Kai: Fresh green aldehydic notes & island gardenia atop a floral middle of rose, jasmine, & muguet, w/ soft, sweet bottom notes of musk, sandalwood, & vanilla
Kai-Halulu: A beautiful crisp & salty fragrance reminiscent of fresh ocean air blowing across the warm sand
*Lavender Basil: A clean spa-type lavender fragrance w/ a touch of basil
Lemon Sugar: A perfect fusion of zesty lemon entwined w/ sweet sugar
Lemongrass Sage: A refreshing mix of lemongrass & sage
Lettuce: Fresh garden notes of a slightly floral lettuce blended w/ water & ozone
*Lime Leaf & Lily: Kaffir lime blends w/ the delicate aroma of white lilies to create a complex, fresh scent
*Linden Green Tea: Classic green tea watery freshness w/notes of linden, orange blossom, lemon, hot ginger & dry vetiver
Ocean Mist: Sand, sea spray & sun tan lotion will have you dreaming of the ocean year around
*Paheri Mango Leaves: Bright & fresh notes of mango leaves, verbena, & grenadine
Peppermint: Pure & invigorating peppermint essential oil
*Peppermint Grapefruit: An invigorating blend of juicy grapefruit & peppermint essential oils
*Polar Express: An icy sinus-clearing blast of eucalyptus leaves blended w/ tingly peppermint & cool spruce
*Red Currant & Thyme Tea: A red currant herbal tea w/ a fruity citrus top-note of blackberry, lemon, lime & bergamot, combined with thyme, lavender & cassis
Rosemary Mint: A soothing soft spa blend of fresh rosemary & refreshing mint
Rosemary Peppermint: Uplifting & invigorating blend of spearmint, peppermint, eucalyptus & rosemary essential oils
*Sage & Citrus: A gorgeous fresh blend of clary sage, lemon & lime
Salty Sea Air: A clean ocean breeze type w/ cyclamen, water lily, green seaweed, clover & a warm woody driftwood
Sparkling Green Tea Garden: This is a highly aromatic Oolong tea w/ slight floral scent & a splash of champagne for sparkle. Blossoms of gardenia, neroli, jasmine, Amazon violets, & roses are blended w/ orchid petals & lavender buds
*Swiss Chalet: An indescribable winter scent blending icy peppermint w/ warm vanilla bean
*Thai Coconut: Escape w/ crisp fresh lemongrass, creamy sweet coconut milk, a touch of vanilla & Kaffir lime leaves
Thé Vert: A soft blend of green tea enhanced w/ jasmine & rose notes
*Thai Martini:This is a freshly delicious, lush, & exotic blend of the islands w/ hints of lemongrass & smooth vanilla
Tonic: Astringent, fresh & green w/ a sweet floral heart of geranium & rosemary
*Vervaine Olive Blossom: A beautiful crisp scent w/ notes of lemon verbena, green olive leaves, petitgrain & cucumber
*Violet Lime: The exotic floral aroma of violets is accentuated w/ a burst of fresh lime zest in this sophisticated blend
Wasabi Lime: Spicy wasabi blends perfectly w/ zesty lime in this unique scent
Waterfall Mist: A fresh, clean scent perfect for spring or anytime you need an escape
Wheatberry & Cream: A dry wheat base w/ middle notes of nuts, fresh grasses, herbs & hay, topped off w/ sweet cream
White Tea & Ginger: A warm jasmine w/ topnotes of fresh lemon peel enhanced w/ an exotic spice character

MASCULINE
African Amber: A masculine blend of warm amber, wood & rich cologne notes
Bay Rum: Strong & clean, w/ notes of cloves, vetiver & sandalwood Very sexy! Zesty, fresh & full of spice
Blake: French vanilla meets bergamot, orange, lemon & lime w/ floral hints of jasmine & lavender, warm wood & musk
*Blue Tweed: French verbena & lemon, w/ a green center of Florentine Iris & violet leaves, mysore sandalwood & ambergris
Cowboy: A sexy masculine blend of cologne & leather w/ a hint of rich tobacco undertones
*Eclipse: A sporty scent w/ notes of spicy berries, citrus, lavender & amber
Full Moon Vetyver: A complex blend of resins, patchouli, vetyver, myrrh, herbs, woods, grasses & anise
*Midnight: Exotic woods, musk, oakmoss, & hints of fresh lime on a soft undertone of floral rose & cyclamen
Pleasure: Accents of coriander, sandalwood, & moss merge w/ nectarine, ginger, & pimento
Solstice: Intense & sensual mens fragrance w/ notes of basil, pine needle, & infinium
Ucci: An upscale masculine scent comprised of an intoxicating, sensual blend of woods, pepper, bay, amber, & leather
*Verte: An aromatic blend of lavender, spruce & cedar enhanced by citrus, patchouli, sandalwood & oakmoss

COMPLEX PERFUMES
Almond Coconut: A decadent blend of almond & coconut milk supported w/ white jasmine, rosewood, ylang ylang, vanilla bean, tonka, heliotrope & musk
*Angelic: Essences of honey, chocolate & caramel, blended w/ notes of vanilla, patchouli & sandalwood
Anné: A sophisticated & sexy blend of bergamot, amber, orange, vanilla & musk w/ an ending kiss of geranium & patchouli
*Banyan Fruit & Vetiver: A luscious & ethereal blend of red fig, bergamot, kumquat, mandarin, white peach, & currant consumed in a veil of cyclamen, osmanthus, violet leaf, exotic woods, vetiver & black amber
*Black Pomegranate: Ancient pomegranate, black currant, Italian bergamot, sweet raspberry, pink pepper, opopanax, & tart plum merge with frankincense, musk, spicy wood & patchouli, creating a firey & provocative blend of pomegranate noir
*Black Vanilla: Dark Madagascar vanilla beans enhanced by hints of tonka beans & a touch of east India patchouli
*Blue Serendipity: A complex composition of caramelized sugar, woodsy cedar & warm tonka bean. A heart of patchouli, French lavender, heliotrope & coriander w/ notes of Italian bergamot, mandarin, star anise & fresh ginger
Bohemian: Haunting & seductive sharp green notes touched w/ a hint of bergamot, lemon & galbanum. Dry notes of Bulgarian rose, clove bud, amber, sandalwood & tobacco finish off this unique fragrance
Bombe de Fleur: This full-bodied, opulent, flowerbomb begins w/ top notes of tea & bergamot w/ middles notes of jasmine, orchid, rose, & freesia. It melds into a warm, sweet dry down of cedarwood, patchouli, amber, musk, & vanilla
*Botrytis: Imagine a note of warm honey, fruits, soft floras & pain depice Sexy, opulent, golden, & seductive
*Bourbon Vanilla: A complex blend of vanilla, cedarwood, musk, & lemon. Deeply creamy w/ a soft bourbon nose
Britton: A classic, green-oriental blend of peach, lime, green pear, & mandarin, jasmine, gardenia, violets, rose, & sugared almonds. A sweet, soft drydown is provided by white musk, sandalwood, amber, & tonka bean
Cashmere Noir: The balsamic richness of cinnamon, clove, saffron & cardamom blended w/ vanilla, sandalwood, incense & cedar is rounded out w/ a kiss of rose, jasmine & patchouli
Chergui: A magical blend of honey, musk, incense, tobacco leaf, hay sugar, amber, iris, rose, & sandalwood A must try!
Cherie:A fresh, green sparkling blend highlighted by fruity notes of apple & pear A delicate floral bouquet at the heart combines fresh muguet w/ jasmine The drydown is rich musk & precious woods
Cherry Amande: Sweet cherry mingles w/ decadently rich almond & gentle floral notes of jasmine, rose, & violet
Child Grace: The clean, sweet scent of innocence - powdery, feminine & soft w/ notes of poppy, pink mimosa, pepper, white wood, & musk
*Chinatown: Sophisticated perfume of peach blossom & floral patchouli blended w/ hints of dark woods & cardamom
*Chocolat: Delicious, unabashedly sensual & euphoric w/ notes of bergamot, orange, lemon, lily of the valley, coriander, hazelnut, & vanilla, grounded in malt, chocolate & musk
*Chypre: Chypre perfumes are traditionally warm & woody w/ notes of amber & oakmoss. Ours is a sophisticated floral blend of oakmoss, lavender, Moroccan rose, sweet tuberose, patchouli, resin, amber, & a powder finish. A rose like no other
* Citron Tart: A delicious blend of zesty lemon, calabrian bergamot, cassis, star jasmine, wood, vanilla bean, praline & musk
*Crème Bouquet: Innocent, sweet & creamy w/ a delicate blend of vanilla, pink lilac & lily of the valley for the young at heart
Delicious: Raw freshness grounded in amber & wood w/ flirty grapefruit, cucumber & rich magnolia blended w/ tangy apple, tuberose, white muguet, rose & violet
Elle: A gourmand fragrance w/ a hint of oriental - notes of bitter orange, cinnamon, immortal flower, vanilla, woods, & musk
Elixir: Patchouli, vetiver, & sandalwood blended w/ Bulgarian rose, mahogany, black orchid, jasmine & ylang ylang
Enchant: An incredibly sweet infusion of ripe fruits w/ hints of blossoms, musk, sugar, vanilla, & pink pepper
Et Une Rose: A cult classic of dune rose, musk rose & Bulgarian rose blended w/ vanilla, amber & musk
*Euphoric: Exotically fruity top notes of pomegranate, persimmon, & champaca lead to a seductive floral middle of black orchid, lotus blossom, & violet atop a rich, sexy base of amber, soft woods, & a creamy accord
Exact Friction: A gentle but decadent wisp of chocolate & coconut cream drenched w/ vanilla
*Exotic Coconut Cream: Rich, true coconut folded into sweet cream is adorned jasmine, sandalwood & vanilla
Fantasia: Tart berries, white chocolate, musk, woods, orris root, red lychee, golden quince, Asian pear & creamy vanilla cupcake, topped w/ orchid, jasmine & Parma violet
*Fracas: A heady white floral blend w/ notes of peach, orange blossom, gardenia, cyclamen, rose, jasmine, lilac, iris, & calla lily. A touch of musk & tolu balsam in the bottom keep it grounded
Gateau: A delicious fusion of sticky cake sweets - almond, honey, pistachio, dates, milk, brown sugar, ambrette & myrrh
*Haruko: A lively mix of sharp lime, grapefruit & tangerine emerging from a velvety green heart of thyme w/ a smooth woody base
Hawaiian Ginger: Infused w/ intensely fragrant notes of ginger, orange flower & luscious melons
Heavenly: A lovely Oriental w/ notes of quince, cardamon, wild ivy, mandarin, water lily, white peony, freesia, iris, violet, poppy, white musk, sandalwood, & orchid vanilla
*Hippy Mouse: A customer inspired blend of patchouli & pink sugar The rich earthiness brings new depth to our popular Serendipity scent (Thanks to Absinthe21 & Mickey Mouse for this lovely blend)
Iced Tuberose: Tuberose blended w/ frosted pomegranate, jasmine, & ylang
Japanese Plum: An exotic fruit medley w/ notes of Japanese plum, tart kiwi, mandarin orange & sun-kissed peach leading to a heart of apple blossoms, night- blooming jasmine, lily, rose & musk
L'Origan: Carnation, violet & heliotrope w/ a sharp, sparkle of anise. The floral heart of bergamot, orange, neroli & ylang ylang is grounded w/ a spicy clove, yielding to a sensual base blend of heliotrope, vanillin, coumarin, civet, vetiver & musks
*La Chasse Aux Papillons: A lovely white floral opens notes of citrus & linden. Orange blossom, tuberose, & jasmine add to the composition, but it's balanced so the tuberose dominates. It's a simple, fresh springtime scent
Labyrinth: A complex & pricey blend of both sensual & comfort scents. Top notes of cherries w/ hints of green grasses, warm woods & resins w/ a hint of dark luscious amber, all ending on a bed of sweet musk
Lapis Lazuli: A mystical & romantic fragrance w/ hints of rose, lilac & Egyptian musk combined w/ vanilla
L'eau Bleu: A light blue floral fragrance w/ top notes of Sicilian citron, Granny Smith apples & bluebells, entwined w/ middle notes of jasmine, bamboo & white rose rounded off w/ cedar, amber & musk
*Littlefoot Cupcakes: A customer inspired blend of decadent pink cupcakes topped w/ rich & fluffy sweet Bulgarian lavender icing Sweet yet sophisticated (Thanks to Littlefoot76 for this lovely blend)
Lolita: A romantic & feminine medley of lemon & orange w/ notes of cashmere, rose, & sandalwood
*Mora: Fruity blackberries meld w/ tart sliced lemon & the sultry smell of sweet musk & vanilla. Fresh & unique
My Princess: Golden water lily, apple, clementine, blushing apricot & ripe pink guava w/ Tahitian tiare, mimosa & wild tuberose; underscored by bottom notes of amber, musk, dark chocolate, frosting & chiffon vanilla
*Nectarine Blossom & Honey: A sweet, summery blend of nectarine, peach, black currant, green apple, lemon, & green mandarin notes atop a midsection of jasmine, lily, ylang, & honey, w/ clean musk & earthy vetiver
*Noir Vetiver Café: Deeply exotic & sensual unisex fragrance. The bitter essence of coffee bean melds w/ vetiver, incense, & sequoia Coffee has never been this sexy!
Nomad Tea: This unisex scent begins w/ top notes of the haunting aroma of Artemisia, wild mint, cardamom, & chocolate. Middle notes of Burmese green tea & geranium leaf end w/ a subtle sweet sugar note & the essence of smoky wood
Oxygen: This warm tantalizing blend of amber woods consists of cedar wood, violet, jasmine, neroli & lavender topped w/ lemon, bergamot, amber & musk
Orchid Tea: Delicatel florals entwined w/ leafy greens & a heady floral bouquet of jasmine, rose, honeysuckle & muguet
*Posh: A soft, feminine, classic, lovely blend of fresh top notes of green mandarin, bergamot, green apple martini & lavender. A heart of patchouli, orchid, & narcissus is layered over white amber & red cedar
Precious Amber: A beguiling fragrance begins w/ top notes of natural bergamot, galbanum, lemon, petitgrain, & lime, leading to a sweet-spicy middle of amber, vanilla, nutmeg, & clove, w/ rich bottom notes of ambergris, balsam peru, & sandalwood
*Provocative: A sultry blend of exotic elements such as saffron & coriander. Captivating & seductive w/ a heart of Moroccan rose oil, Egyptian Jasmine, magnolia, ylang, & white gardenia. Balanced w/ Haitian vetivert, amber, & musk
Pure Indulgence: A sweet fragrance w/ hints of warm brown sugar spattered w/ delicate freesia petals & Madagascar vanilla bean, pure jasmine absolute, & a sprinkle of nag champa
Rush: A sharp, oriental, woody fragrance w/ notes of floral gardenia, coriander seeds, jasmine, rose, & vanilla
Sampaquita: A summer bouquet w/ hints of lychee, green grass, bergamot, magnolia, sampaquita, freesia, rose, & water lilies
*Sandalwood Vanilla: Sensuous & intoxicatingly sexy, this unisex fragrance is the perfect blend of down-to-earth woody sandalwood & musk sweetened w/ just the right balance of vanilla
Santana: Exotic fruits mingle w/ soft florals & sensuous musk. Notes of neroli, pear, cassis, coconut milk, freesia, Japanese plum, & calla lily are rounded off w/ chocolate, musk & sandalwood
Satin Sheets: A clean sensual rosy floral type w/ a nuance of lemon, a hint of sweet chocolate & a musky base note
*Seduction: Sweet orange citrus top notes seduce you while floral notes of rose, & jasmine whisper from the core, Sandalwood, vanilla & musk bottom notes round out this romantic scent
*Serendipity: A pink sugary blend of cotton candy, vanilla & caramel lightened w/ a fresh bergamot & orangey citrus top note, w/ touches of berries, muget, strawberry, plum, & a dry-down of dry fig leaves, musk, anise, & woods
Serenity: Gloriously warm rich cocoa & Grand Marnier truffle scents meet caramelized sugar
*Sexy: A vibrant & sensual scent that combines blackberry, white musk, & vanilla orchid
Spellbound: A fresh blend of cherry blossom, muguet, red apple & Georgia peach, w/ hints of tamarind & blondewood
Star: A captivatingly sensual blend of sultry amber w/ rich vanilla notes that leaves you longing for more
Strawberries & Champagne: Fruity top notes sparkle in a festive combination of strawberries & champagne w/ floral mid notes of rose, jasmine, muguet & carnation resting on a base of musk
Sugar Water: Light & airy w/ subtle lingering notes of orange blossom, wild berries, & vanilla
Summer Crush: Mouthwatering peaches & sugared plums w/ an ambrosial bouquet of jasmine, freshly cut grass & rose petals
Sunset Magic: A magical journey of floral & fruity papaya, lemon, mango, watermelon ice, peach lotus, hibiscus, & sandalwood
Sweet Scarlet: Wickedly sweet strawberries & grape mixed w/ hot house flowers & musk
*Taste of Paradise: Absolutely gorgeous unisex blend of bergamot, rose, cinnamon, blackberry, cedar, balsam, & amber
Tea Lamour: Sweet strawberry, blackberry, succulent raspberry, citrus & plum with delicate jasmine, classic rose, & carnation. Lingering base notes of powder, vanilla, sugary cinnamon & musk
Tender: Green tangerine & violet leaves, lychee, peach, & lush florals warmed w/ musk, iris, sandalwood, & ambrette seed
Tolu: An upscale mix of juniper berry, orange blossom & clary sage. Hints of orchid, Moroccan rose, muguet, tolu, tonka bean, golden frankincense, & soft amber
Tropic Lamour: A sweet blend of hibiscus & Hawaiian orange blossom smoothly blended w/ subtle notes of melon, sugar cane, black currant, grapefruit, peony & cashmere wood create a casual yet sensual fragrance
Tryst: A captivating blend of green florals, fleur d'orangery, jasmine, white tea & lily of the valley
*Twilight Pomegranate: A sexy dark blend of pomegranate, orange, cinnamon, & vanilla
*Un Bois Vanilla: Dripping w/ unique tones of coconut milk, black vanilla absolute, beeswax, caramelized benzoin, anise, bitter almond, Gaiac wood, Tonka bean, & sandalwood
Vaniglia del Madagascar: A lush & exotic blend of the vanilla orchid & vanilla bean imported from Madagascar
Vanilla Exotica: An intoxicatingly simple yet complex unisex blend of vanilla absolute, bourbon, tonka bean & orchid
Vanilla Lace: Fresh, airy, ozone top notes, middle notes of buttery rum & a base of musk & vanilla
Victoria: An explosion of opulent white florals masterfully blended w/ sweet violet
*Zen Tea: A stellar fragrance w/ notes of honey, sweet fresh tea, a little bit of floral, citrus & light woody notes

GOURMET
Almond: A single note almond, a strong yet sweet nut
Almond Cookie: A delicious mixture of toasted almonds & sweet cake flour
Almond Pastry: Freshly baked aroma of sweet pastry sprinkled w/ crunchy almonds
Amaretto: A traditional amaretto scent w/ notes of almond & cherry
Amaretto Tiramisu: Ladyfinders drenched in Amaretto & espresso topped w/ cocoa & a dollop of heavy cream
Amour de Cacao: Bitter chocolate combined w/ notes of vanilla & orange, smooth & seductive
Anise: The classic pungent scent reminiscent of black licorice is reputedly an aphrodisiac!
Apple Cider: Juicy red apple & fresh squeezed lemon juice stirred up w/ a dash of vanilla sugar, cinnamon & nutmeg
Apple Coffee Cake: Mouthwatering apple coffee cake swirled w/ brown sugar & a touch of cinnamon
Apple Pie: Slices of juicy apples covered in brown sugar & cinnamon in a piping hot flaky crust
Bacci de Miele: Warm & luscious a pure rich pool of sweet, amber colored honey
*Babymilk: A delicate & clean baby scent; slightly powdery Soft & creamy honey-sweetened buttermilk
Baked Cherry Delight: A dreamy concoction of graham crackers, hot cherry filling, & a smattering of nuts & spices
*Banana Cream Pie: Creamy bananas, meringue & a traditional butter piecrust
Banana Spice Bread: A traditional comfort scent warm crust w/ toasted nuts, cinnamon swirls, & ripe banana
*Belgian Chocolate Truffle: The most elegant of European chocolates, its rich, dark & completely to-die-for!
*Birthday Cake: A delectable sweet cake fragrance that will have you making your birthday wish
Biscotti: An authentic Italian treat! Crisp & crunchy twice baked cookies w/ hints of vanilla & almond
Bits O Honeyed Toffee: A sweet & nutty confectionary treat
Black Cherry Soda: Rich dark black cherries, a touch of sugar & an effervescent fizz bring this scent to life
Black Forest Truffle: German chocolate around a moist chocolate cake w/ dark sweet cherries soaked in cherry liquor
*Blackberry Jam Butter Cookies: Freshly baked butter cookies sweetened w/ a dollop of tart, ripe blackberry jam
*Black Keenum Tea: No perfume, no lemon, no sugar & no honey; just a strong, pure tea scent.
Blue Raspberry Icee: A chilly blend of sweet & tart, wont make your tongue blue though we promise!
Black Raspberry Viennese Latte: An aromatic blend of rich espresso, vanilla cream, & juicy black raspberry syrup
*Black Russian: Dark coffee liquor, exotic spices, vodka, & sweet cream. Make mine a double!
Blueberry Cheesecake: A purely decadent blend of ripe blueberries, rich cream cheese & sugar
Blueberry Cobbler: A delicious, rich, buttery, blueberry cobbler. Sugary blueberry, creamy vanilla, & sweet cinnamon
Blueberry Muffins: Wild blueberries baked in sweet muffins, notes of brown sugar, butter, & vanilla top it off
Brown Sugar Fig: A caramelized fruity fig w/ sweet plum, floral jasmine, cyclamen, anise, vanilla, and white musk
Bubblegum: Old fashioned sweet pink bubble gum
Buttercream: Velvety vanilla buttercream frosting without the calories
Buttermilk & Honey: This is a unique fragrance w/ the essence of creamy buttermilk, amber, & a soft honey
Butter Rum Spice: Warm vanilla, buttered rum & sensual sandalwood are combined w/ a dash of allspice
Café Brûlot Cookies: Buttery cookies dusted w/ brown sugar, cinnamon, cloves, & pecans. Accents of coffee & orange
Café Orange de Vanille: The heavenly aroma of rich espresso, a dab of whole milk, vanilla bean & orange zest
Candied Apple Pomander: A freshly baked green apple w/ notes of pear, peach & orange peel; spicy cinnamon & clove Candied Blueberry: Juicy, fruity blueberries covered in sweet sugar crystals
*Cannoli di Albicocca: Strong, delicious apricot touched w/ a hint of rum, creamy ricotta filling & vanilla
*Caramel Corn: Caramelized brown sugar meets popcorn w/ just a dash of salt
Caramel Macchiato: Dark roast coffee beans w/ buttery vanilla & rich caramel
Carrot: A fresh sweet scent of garden carrots w/ notes of muguet & citrus.
Chai: A glorious fusion of cassia, cinnamon, cardamom, ginger, black pepper, & nutmeg
Champagne: Break out the bubbly & get ready to celebrate w/ golden champagne!
Chocolate Covered Cherries: Sweet juicy cherries drenched in dark milk chocolate
Chocolate: Sweet & succulent unadulterated milk chocolate
Chocolate Espresso: Pure rich chocolate in dark espresso
Chocolate Mint: Mmmm soft mint blended w/ dark chocolate chunks
*Chocolate Silk Cappuccino: Milk chocolate whipped w/ buttery vanilla, rich caramel, a hint of spice, coffee, & brandy
Cocomilk: Sweet coconut milk w/ just a dab of peach kernel & a caramelized sugary vanilla base
Coconut Cream Pie: A delicate blend of vanilla, coconut, cream, & graham crackers
Columbian Coffee: Pure unadulterated roasted black coffee beans
Cotton Candy: Light & sugary sweet, like the carnival treat
*County Fair: A nostalgic scent of fair treats - fluffy cotton candy, caramel applies & freshly popped kettle corn
Cranberry Dreamsicle: Tart cranberries masterfully blended w/ sweet peach & creamy vanilla
Crème de Cassis: A swirl of luscious black currant liqueur enveloped w/ a froth of fresh cream
Croquembouche: An elaborate affair w/ crunchy caramel, creamy vanilla custard & delicate spun sugar
Earl Grey & Honey: Tannic, astringent orange pekoe tea scented w/ bergamot & sweetened w/ a hint of wild honey
Cream Cheese Frosting: A yummy frosting scent of cream cheese w/ a generous dusting of confectioners sugar
Creamy Coconut: A perfectly balanced toasted coconut
Crème Brulee: Vanilla custard w/ a crackled topcoat of caramelized sugar
*Crème de la Crème: Creamy, rich & decadent A complex blend of cream w/ notes of caramel & brown sugar
Crystal Ginger Tea: Spiced ginger tea w/ a burst of lemon & yuzu, hints of jasmine & peach flower, & nutmeg
Deep Fried Ice Cream: Rich vanilla ice cream in a flaky crust sprinkled w/ cinnamon sugar & drizzled w/ honey!
Dream Bars: A gooey blend of coconut, chocolate, peanut butter, caramel, nuts & brown sugar
Earl Grey & Honey: Tannic, astringent orange pekoe tea scented w/ bergamot & sweetened w/ a hint of wild honey
Eggnog: Rich & creamy eggnog topped w/ nutmeg, cinnamon, & French vanilla
English Toffee: Buttery sweet, crunchy toffee
Fresh Baked Bread: A comfort scent complete w/ yeasty notes & a crispy homemade crust
*Frosted Pink Cupcake: Deliciously decadent pink cupcake topped w/ double whipped sugary pink frosting
Ginger Appletini: A trendy blend of vodka, apple schnapps & apple juice w/ a fresh ginger twist
Gingered Lemon Honey: Tart lemons, sweet honey & fresh grated ginger
Glazed Donuts: Hot fresh donuts dripping w/ gooey warm glaze
Glühwein: A German blend of apple liqueur & red wine mulled in cinnamon, cloves, oranges, &lemons
Harvest: A spicy blend of cinnamon, clove, & white pepper
Hazelnut: Filled w/ the sweet, sultry & rich fragrance of hazelnuts
Homebaked: Sweet potato pie, rum, nutmeg, cinnamon, clove, & sweet vanilla
Honey Almond: Sweet golden clover honey w/ almond
Hot Cocoa: The sweet aroma of milky hot cocoa, layered w/ creamy vanilla & marshmallows
Ile Flottante: A lovely rendition of the traditional meringue surrounded by creamy pistachio custard
Irish Cream: Indulge in this decadent mix of cream, eggs, chocolate & premium Irish whiskey
*Italian Cream Cake: A delicious creamy blend of white sugar, buttermilk, shredded coconut & vanilla extract
Key Lime Pie: Zesty yet sweet Florida key lime pie fresh from the patisserie
Lace Gloves: The scents of formal tea party treats, complete w/ scones, teacakes & vanilla
Lemon Meringue: Fresh homemade lemon meringue pie. Yummy!
Magnificent: Decadent yellow cake meets creamy cheesecake & rolls around in fudge. Topped off w/ a cherry!
*Mango Lassie: Luscious, rich, & fragrant succulent ripe mango & sweet cream w/ a hint of citrus & spice
Mangorita: A delicious mango margarita on the rocks w/ a generously sugared rim
Maple Sugar: A sweet & syrupy hard candy made from concentrated maple syrup
*Marshmallow: Sugary sweet, tooth aching, pure ooey gooey fun! No toasted notes in this one just sweet fresh marshmallow
Marshmallow Ambrosia: Marshmallow ambrosia complete w/ peach, strawberry, cherry, orange & vanilla w/ hints of coconut
*Masala Spice Latte: A spicy chai tea - creamy milk blended w/ black pepper, cardamom, cloves, ginger, & other spices
*Matin Calin: Rich, warm & delicious sweet milk. The creamy, buttery note of milk is enrobed w/ sugar & vanilla pod
*Mint Angel: Top notes of sweet sugar & hard peppermint candies rounded out w/ vanilla & a hint of angel food cake
Mocha Mint Latte: Dark chocolate, mint, & coffee intermingle in this tantalizing blend
*Oatmeal, Milk & Honey: A comfort scent w/ lots of sweet honey overtones, tempered by a creamy heart of milk & grain
Old Fashioned Vanilla Cake: A sensual warm, rich sweet vanilla cake w/ a touch of Kentucky bourbon
Orange & Buttermilk Parfait: Candied kumquat, orange water, & orange zest blend deliciously in a buttermilk parfait
Orange Chiffon Cake: A truly delightful combination of sweet orange & fresh golden cake
*Orange Creamsicle: Creamy vanilla meets orange sherbet in this childhood favorite that crosses all age boundaries
Peach Jam Cheesecake: Sweet ripe peaches over a buttery graham cracker crust & topped w/ vanilla whipped cream
*Peaches n Cream: A gorgeous peach ice cream scent. It's sweet & creamy & very luscious!
Peanut Butter Cookie: The buttery rich scent of freshly baked peanut butter cookies sprinkled w/ sugar
Peppermint Stick: A sweet blend of peppermint & sugar Fresh, clean, cool & minty
*Petits Choux: A classic blend of pastry cream & whipped cream flavored w/ rose syrup & rose water
*Pina Colada: Get your cabana boy ready for sweet & tangy pineapple & coconut milk from the tropics
*Pineapple Hurricane: A whirlwind of ripe strawberries, fresh citrus & juicy pineapple w/ a sugary base
Pineapple Upside Down Cake: Sweet pineapples in vanilla flavored cake, w/ hints of butter & brown sugar
Pistachio Ice Cream: Creamy vanilla ice cream w/ crunchy pistachio nuts
Pizzelle: Waffle cones are no match for these scrumptiously sweet Italian waffle cookies!
Pound Cake: Fresh baked pound cake w/ dripping hints of buttery vanilla & sugar
Pumpkin Bread: Rich homey pumpkin bread baked w/ plenty of vanilla, clove & nutmeg
Pumpkin Harvest: A delicate blend of pumpkin w/ ripe peach & sweet maple, swirled w/ allspice, clove, rum, & vanilla
Pumpkin Pie: Sweet pastry crust w/ spiced pumpkin filling
Pumpkin Spice Frappuccino: Pumpkin & seasonal spices, combined w/ rich dark espresso & steamed milk
Pure Vanilla: Nothing but sweet creamy vanilla
*Raspberry Truffle: Rich chocolate meets tart ripe raspberry
*Raw Cocoa: Pure raw cocoa, more of a bitter chocolate than sweet
Root Beer: Bubbly root beer will bring back childhood memories
*Root Beer Float: Rich vanilla ice cream drenched in dark root beer
Sex on the Beach: A tropical, exotic fruity citrus blend of melon, fruity rum, strawberry, jasmine vanilla & coconut
*Spiced Gingerbread: Gingerbread baked w/ saffron, nutmeg, cinnamon, molasses, vanilla, brown sugar & butter
*Spiced Pumpkin Soufflé: The earthy sweetness of pumpkin blended w/ clove, nutmeg, allspice, cinnamon & ginger
Spiced Waffles: Buttery waffles drizzled w/ honey, nutmeg, clove, & allspice topped w/ hot caramelized apples
Strawberry Cream: Sun ripened strawberries tossed w/ a sprinkle of sugar & a dab of whole cream
Sugar Plum: Very sweet, & pleasantly plum A holiday favorite suitable for year-around!
Summer Wine: A light fruity wine w/ an ethereal floral note
Sweet Cream: Warm, milky, sweet & comforting notes of vanilla, rich heavy cream, & pure cane sugar
Sweet Pumpkin: A warm blend of sweet cream, molasses, pumpkin w/ a just a bare hint of spice
Sweet Tart: Sweet yet tart, a candy inspired scent
Toasted Marshmallows: Get the graham crackers & Hershey bars ready for sticky toasted marshmallow
Toffee Pudding: Pure creamy buttery toffee. Very sweet
*Tres Magnifique: Sugary sweet vanilla w/ hints of cotton candy & a handful of vanilla candies
*Turkish Delight: Delicious double milk chocolate encases this hidden jewel of raspberry & rose filling
Turtle Brownies: A rich chocolately brownie drizzled w/ gooey caramel & a sprinkling of nuts
*Watalappan: Coconut cardamom custard - sweet creamy coconut milk, sugar, vanilla, tonka bean, & spices
White Chocolate: Creamy decadent white chocolate
*White Chocolate Macadamia: Gooey white chocolate blends w/ sweet warm macadamia cookies
Wildberry Tea: Raspberries, strawberries, blueberries, cranberries, & cherries meld w/ hibiscus, rosehips, & chicory
Wine Cellar: A full-bodied blend of fine wines, complimented by a hint of oak
Vanille Banane: A wonderful concoction of run, warm vanilla pods, banana cream, & just a hint of orange
Vanilla Bean: A rich buttery vanilla w/ a touch of spice
Vanilla Cream: This creamy vanilla is buttery & decadent, makes a great blender to soften another scent
Vanilla Fig: Fabulously smooth fig w/ muguet & gardenia delicately blended w/ creamy, rich vanilla
Vanille Peach: Luscious peach juice, cream, brown sugar, coconut, Tahitian vanilla & a hint of hibiscus
*Vanilla Sugar Cookie: Pure, sweet creamy butter & the richest vanilla w/subtle notes of nutmeg & cinnamon
*Vanille Abricot Crème: Creamy notes of jackfruit, apricot, & tropical papaya whipped w/ sweet sugary vanilla
Vanille Coco: Tantalizing sweet Tahitian vanilla mixed w/ fresh coconut milk
Vanille Mokha: A delicious blend of coffee, touched w/ a sensual note of creamy vanilla pods
Violet Chiffon Cake: Light teacakes dipped in sweet violet laced icing. Delicate & very sweet

FLORAL
Baby Hugs: A powdery baby scent w/ soft undertones of rose, jasmine, & violet
Bamboo Flower: Fresh green astringency of green tea, ginko, clover, cedar, sage, olivewood, grass, & a light floral accord
Black Orchid & Lily: A mesmerizing simple blend of orchid blossoms & lily of the valley
Blackberry Vanilla Musk: Wispy touches of blackberry & vanilla musk, ending w/ white rose. A very light scent
Blessed Sake: Velvety blend of white peach absolute & sparkling langsat w/ lotus, lily of the valley, & musk
Bourbon Geranium: Sweet floral green notes of true geranium, similar to a soft rose
*Calabrian Bergamot & Violet: Citron, bergamot, pear, floral violet, rose-geranium, heliotrope & sandalwood
Carnation Blush: Slightly spicy, light floral, a bit lighter than a true carnation floral
Chamomile: This gentle, soothing, sophisticated fragrance smells just like the chamomile flower
*Chamomile & Lavender: A traditional blend of chamomile & lavender will calm & relax you
Cherry Blossom: An exotic blend of subtle oriental notes combined w/ vanilla & hints of apple
Cherub: A riveting fusion of innocence & seduction - fresh tropical floral notes, jasmine, tuberose, heliotrope, & narcissus balanced w/ foliage, moss, & white musk
*Cuddle: This is the scent of a baby fresh from the bath - chamomile, sweet pea & lavender w/ a hint of powder
Damascus Rose: Damascus, Centifilia & Albertine roses & a smidgen of green leafy notes
*Damsel: A soothing oriental blend of rose, carnation, orange, vanilla, & patchouli
Dazzle: A soft floral medley of ylang ylang, gardenia, cyclamen, & magnolia w/ crisp bergamot, basil & wood resins
Dianthus: Also known as Sweet William, the Dianthus flower has a spicy clove-like scent
Dragonfly: A floral Oriental of blackberry, bilberry, black currant & strawberry, a heart of rose & jasmine, on a ground of sandalwood, rosewood, almond & ebony
*Flirtatious: A classic bouquet w/ hints of jasmine & neroli, sweet bergamot, cedarwood, vanilla & powder-soft musk
Floral Violet: A sweet light floral violet
Frangipani: The exotic plumeria traditionally used in leis is a smooth & sweet floral
*Fresh Cut Roses: An incredibly true fragrance of dew-covered roses
*Fresh Lilac: Pure fresh lilac blossoms sure to evoke memories of spring
Fuji Flower: Irresistible & exotic notes of jasmine & peach blossom w/ hints of sexy sheer musk & woods
Gift of the Magi: An intoxicating blend of ylang ylang, cyclamen, lily of the valley, musk, myrrh & fruit
*Glacier Flower: A soft original citrus & floral scent of grapefruit, baby's breath & rose petals w/ a background of mimosa leaves, almond blossom & benzoin, under middle notes of pepper tree & cassis
* Grace: A clean, floral blend - delicate flower blossoms of jasmine, violet, rose & grounded in a sheer musk
Head over Heels: A complex floral w/ Bulgarian lavender, raspberry leaves, tangerine & hints of mignonette, rosewood, white talc, vanilla, & almond milk
*Heavenly Blue Lotus: A bouquet of the heady sweetness of hyacinth, tuberose, freesia, orange blossom & white calla lily balanced by chrysanthemum, linden leaf, pomegranate, green & woodsy notes
Heliotrope: A single note floral heliotrope, sweet & mild w/ anise-like notes
Honey Gardenia: Warmed sweet honey combined w/ fresh summer gardenia blossom
Honeysuckle: A heavy floral honeysuckle mixed w/ sweet florals of jasmine, muguet & neroli
Honeysuckle Jasmine: Delightful heavy spring floral blend of jasmine & sweet honeysuckle
Honeysuckle Pear: A unique fruity-floral blend of honeysuckle blossoms & sweet, juicy pears
Iris & Fern: Delicate irises & fern fronds blowing in the spring breeze
*Kimono: Fresh & complex sea notes, blended w/ citrusy-ozonic top notes of Italian bergamot, Egyptian geranium oil, & water fruit. Rose damascena, gardenia, lily of the valley, white musk, East Indian sandalwood, cedar wood, & amber
Jasmine Blush: A delicate floral medley of pink jasmine, magnolia, pink peony & tiare flower, richly infused w/ citrus, luscious fruits & supported w/ earthy woods. Top notes of cream freesia, blonde Israeli orange, lemon, & white Japanese lilac
Jasmine Rose: Sweet jasmine compliments delicate rose in this classic blend
Lavamber: An alluring & sophisticated scent blending crisp lavender mixed w/ the soft, warm tones of amber
Lavanilla: A soft relaxing blend of vanilla & herbal lavender, stronger on the lavender scent
Lavender: Pure & simple lavender A traditional & relaxing scent
Liena: An enticing floral blend w/ notes of mandarin & melon that quickly metamorphose to a strong floral middle led by notes of jasmine, orange blossom, & rose, atop a woodsy base supplemented by vanilla & musk
Lily of the Valley: A single note floral blooms w/ the true soft fragrance of lily of the valley Simple & timeless
*Linden: Fresh linden blossom & bergamot w/ a heart of rose, geranium, jasmine, muguet, & ylang
*Magique: A magical blend of soft florals such as pikake, jasmine, white rose, & pink geranium enrobed in bergamot, sandalwood, amber, spice & cashmere musk
Mandevilla: A soft plumeria scent w/ tart quince, immortelle, & sweet vanilla bean
Manuka & Lavender: New Zealand Manuka honey folded w/ freshly harvested lavender buds
Peach & Lotus Blossom: A succulently juicy of a ripe peach, blended w/ Asian lotus blossom
Peony: Lush peony notes underscored w/ hints of green fields, wild flowers, rose petals, & lilac
*Pink: A sheer floral mix of white freesia petals, lychee, cassis, pink lily of the valley, rose, peony, iris & exotic woods
Pink Magnolia: Magnolia w/ top notes of sweet southern honeysuckle as well as a hint of jasmine & a tuberose
*Pink Peony Petals: Sensual, powdery, & completely romantic w/ a soft rosy drydown
Pomonas Garden: Fruity notes of cling peach, Bartlett pear, & navel orange open to a floral bouquet of lily of the valley, white rose, & jasmine sambac. Grounded w/ notes of oak, cherrywood, sandalwood & musk
Ooh La La: Champagne grapes, peaches, citrus & plums balanced w/ rose, jasmine, magnolia, violet, musk & creamy vanilla
Orchid: A strong floral, the pure & fragrant aroma of orchids
Raspberries & White Roses: White rose petals & sugared raspberries, hints warm musk, creamy vanilla, white lily, & fresh peonies
Red Ginger: An exotic rich floral fragrance - floral apple, sweet grape, orange, muguet & jasmine with gardenia, carnation, rose, clove leaf, ginger, lilac, orange flower, violet, powder & musk
Rice Flower & Shea: Very soft, musky fragrance w/ an amber base note touched w/ sweetness & powder
Rose Amber: Ancient precious amber w/ fresh rose, peony, geranium & jasmine, delicate citrus notes, musk, & patchouli
*Rosemilk: Fragrant rose petals steeped in an ancient Grecian sweet milk bath
*Sandalwood Rose: Asian sandalwood combined w/ sweet rose, wild jasmine & exotic musk
Sleeping Angels: This glorious fragrance is fresh, flowery & green w/ notes of rose, muget, & musk
Spring Bouquet: Gardenia, honeysuckle & watermelon are rounded out w/ daffodil, pink peony, cedar, vetiver, & moss
Spring Flower: Feminine & delicate a fusion of floral & fruit w/ notes of peach, melon, apple, jasmine, rose, musk & ambergris
Southern Seduction: A delicate romantic blend of soft powdery roses w/ hints of wine
*Stargazer Lily: A sweet and sensual Oriental hybrid
Stellar: Elegant & feminine w/ contrasting notes of rose absolute, peony, mandarin, amber & musk
Sweet Dreams: A rich super-sweet blend of vanilla, soft florals, & white spices
Sweet Innocence: A delicate fragrance w/ clean top notes & nuances of lavender. Heart notes of classic jasmine, musk & a delicate rose. Woody powders, vanilla, sensual warm, sleepy notes make this a traditional baby fragrance
Sweet Pea: The delicate floral of a sweet pea, romantic & soft
Tiger Lily: A subtle green floral w/ a tinge of musk
*Tuberose Deluxe: A delicious blend of tuberose, gardenia, & jasmine Rich, feminine, & very upscale
Tuberose Elegance: This tropical white flower is used extensively in the Hawaiian islands as a lei flower
*Ultraviolet: Both wicked & innocent, this seductive floral combines wild rose & sweet violet w/ notes of iris, lavender, heather, angelica, basil leaf, oak moss, & sweet fennel
*Ume Blossom: This delightful & gorgeous fruity-floral fragrance combines sweet notes of Bartlett pear, apricot, white peach, & plum blossom w/ fresh notes of mimosa & spring air
Utopia: A fresh floral blend w/ strong carnation base notes
*Vanilla Flower: A subtle blend of vanilla, jasmine, lemon & musk Soft & sophisticated
Victorian Violets: The soft alluring scent of violets is captured in the essence of a serene summer evening on the porch
Vintage Gardenia: Unmistakably elegant & as pretty as lace & pearls, this formal scent opens w/ jasmine & orange blossom. The luminous white floral bouquet is supported by notes of clove bud, sage, musk, patchouli, sandalwood, & vetiver
White Gardenia: Fragrant blooms of white gardenia
*Wild Honeysuckle Blossoms: Sweet & succulent wild honeysuckle blossoms
Wisteria: A romantic floral a bit like lilac sensual & calming
Ylang Ylang: The flower of the cananga tree, an oriental floral w/ hints of jasmine & neroli

* = Recommended favorites

A few notes about fragrance

Note: Some scents will smell slightly different in soap as they will in other products. This is due to the chemical process that the soaps undergo during saponification.

Note: Vanilla notes may discolor bath & body products. Weve chosen not to use artificial preservatives to inhibit this process. Even scents that don't say vanilla can have vanilla notes in them. This may happen immediately or months later, to the entire product or just in select areas. If discoloration does discolor, it will usually turn a product light tan to a brown color, & sometimes even pink or lavender. It does not affect the quality of the product.

Note: We use only high quality skin-safe fragrance oils & essential oils in our products. Should any irritation develop please discontinue use immediately. Fragrances w/ a mint base will generally cause a cooling/tingling sensation when applied to body both in leave on & rinse off products. Some people love it & others dislike it. Fragrances containing cassia or cinnamon may cause irritation to those w/ sensitive skin, again both in leave on & rinse off products. Please keep this in mind when making your scent selections especially if you are placing a gift order. Those w/ sensitive skin may wish to avoid products containing such scents. Citrus essential oils may cause photosensitivity in leave on products so we use only fragrance oils for citrus scents w/ a few exceptions that are denoted in the scent descriptions.
... [Full Description]